Placebo Effect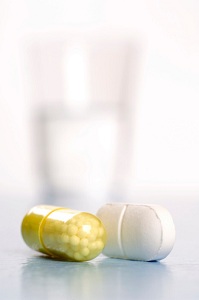 The placebo effect occurs when a person reports an improvement in symptoms after taking a medication that contains no ingredients that should cause symptom improvement. The effect requires that a person believes that the medication will work. For example, a person with depression who is given a sugar pill and is told that the medication is an antidepressant may report an improvement in their depression. A related effect, the nocebo effect, occurs when a person believes a substance will harm them and then reports negative symptoms.
Experiments Involving Placebos
In experiments testing medications, subjects are frequently divided into three groups:
One group receives no treatment
The second group receives the medication being tested
The third group receives a placebo such as a sugar pill
Experimenters typically compare the results of the placebo group to the medication group to determine how much improvement is attributable to the medication versus simply to a belief that the medication will work. Many drugs turn out to be only slightly more effective than placebos.
Mechanism
The placebo effect is directly related to a person's expectations. The more strongly a person believes in a medication's efficacy, the more significant the effect of the medication is likely to be. Brain imaging tests indicate that the use of a placebo may activate portions of the brain related to information processing. Thus, people who take placebos may view their symptoms differently or may become more motivated to feel better.
References:
American Psychological Association. APA concise dictionary of psychology. Washington, DC. American Psychological Association, 2009. Print.
Kring, A. M., Johnson, S. L., Davison, G. C., & Neale, J. M. (2010). Abnormal psychology. Hoboken, NJ: John Wiley & Sons.
Placebo Effect. (n.d.).  Scientific american. Retrieved from http://www.scientificamerican.com/article.cfm?id=placebo-effect-a-cure-in-the-mind
Last Updated: 08-17-2015
1 comment
Leave a Comment
Sue

January 17th, 2022 at 8:03 PM

Had quite a laugh that a therapy website has a placebo article when therapy is the real life example of
the most over hyped and personified placebo in history.