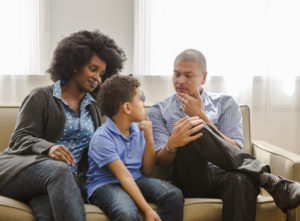 In the wake of terror attacks and acts of violence around the world—such as the white supremacy demonstrations in Charlottesville, Virginia, that led a man to plough a vehicle into a crowd of counter-protesters, killing a woman—many parents may be unsure how to talk to their children about the news.
The American Academy of Pediatrics offers parents several tips. The discussion, the organization says, should begin by asking children what they already know. Parents should offer encouragement and reassurance, maintain a consistent routine, and shield young children from graphic images of violence. They should also monitor children for signs of depression and trauma, such as sleep, behavioral issues, and changes in eating habits.
Many want to talk with their children about race in a way that raises a child's consciousness without being frightening. Most experts emphasize the need to be honest in an age-appropriate way. Parents must also explore their own feelings about race and racism before attempting to educate their children. Like other challenging conversations, ignoring the issue won't make it go away. Rather than having one conversation, parents should begin as early as possible, have frequent discussions, and maintain open lines of communication.
A mental health day can be as important for good health and job satisfaction as sick leave. Yet, many workers are reluctant to tell their managers they need one. Some companies now encourage employees to take mental health days, citing increases in productivity and job satisfaction among employees with good mental health.
Many workers think long-term unemployment is the most stressful job experience they can have. According to new research, however, staying in a bad job might be worse. Researchers followed people who were unemployed during 2009 and 2010. Those who took "poor quality work" had higher stress levels than those who remained jobless.
A new Rand Corporation study suggests lack of access to quality mental health care remains an issue for current and former soldiers. The study, which surveyed 520 providers, found less than half were able to see people with depression or posttraumatic stress (PTSD) weekly. Instead, they saw these people biweekly or less. This suggests soldiers may not get the consistent care they need to see improvements in mental health.
Research on white supremacist groups suggest their members see themselves—not the minority groups they target—as the real victims. They believe white people are the real targets for systemic oppression. In other words, they are prevented from expressing their "white pride," their victimization erodes self-esteem, and the ongoing victimization of white groups is part of a plan to eliminate the white "race."
A new smartphone app promises to help middle-age and older adults manage their physical and mental health. The app, which is designed to meet the average technical abilities of older adults, involves three months of training in 10 sessions. The sessions cover health topics such as stress, medication and substance abuse, and the role of mental health in physical health.

The preceding article was solely written by the author named above. Any views and opinions expressed are not necessarily shared by GoodTherapy.org. Questions or concerns about the preceding article can be directed to the author or posted as a comment below.