Association for Comprehensive Energy Psychology (ACEP)
Association for Comprehensive Energy Psychology (ACEP)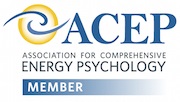 Year Founded: 1999
Model of Therapy: Energy psychology, including Emotional Freedom Techniques
In these trainings, you will learn how to activate deeper and broader levels of healing with your clients by using more holistic methods. Working with the whole body-mind-energy system, energy psychology facilitates rapid positive change and optimal psychotherapeutic outcomes. It is aligned with the latest findings from neuroscience and traumatology. Several energy psychology techniques have been shown to significantly reduce symptoms long-term in fewer sessions than traditional cognitive-behavioral therapy.
ACEP currently offers two types of trainings for professionals:
Essential Skills in Comprehensive Energy Psychology
Emotional Freedom Techniques (EFT).
Levels 1-2 for each type may be taken as stand-alone workshops. Certification is available with additional training, and Continuing Education (CE) hours are offered for all trainings.
Essential Skills in Comprehensive Energy Psychology
This broad-based program is a two-part series designed to give you skills in combining conventional psychotherapeutic modalities with meridian interventions, chakra techniques and biofield practices. For additional information, click here.
Emotional Freedom Techniques
Many variations of EFT are practiced around the world. The ACEP EFT Training and Certification program is unique in its commitment to teaching practitioners the rigor and precision of Gold Standard EFT as laid out by EFT Founder, Gary Craig. EFT combines psychotherapeutic modalities with tapping on meridians. To learn more, please click here. View our training calendar to find a CEP or EFT training near you.
Annual International Conference on Energy Psychology
Since 1999, ACEP has held a widely attended conference on energy psychology. Leaders in the field offer keynotes and breakout sessions, and participants learn the latest techniques and science in the field. CE hours are available for most sessions. The conference is held at the end of May every year, in different locations. Information is available on our web site beginning in December for the next conference year.
ACEP Audio Library
Enjoy over 400 talks from ACEP's 2005-2013 conferences at less than 20 cents per lecture. Get inspired by lectures with luminaries in: energy psychology, neuroscience, integrative psychotherapy, energy medicine, trauma treatment, peak performance, spirituality and consciousness. Speakers include Bruce Lipton, Dan Siegel, Rupert Sheldrake, Bessel van der Kolk, Gary Craig, Donna Eden and Larry Dossey. CE hours are available for selected sessions and other ACEP webinars. For a complete list and to subscribe, please click here.
Robert Schwarz, Executive Director
Dr. Schwarz was appointed to the position of Executive Director in September of 2008. Prior to this he served on ACEP's Board of Directors for three years and served as Conference Director. He is a licensed psychologist and coach based in Ardmore, Pennsylvania and is author of Tools for Transforming Trauma (2002), Posttramatic Stress Disorder: A Clinicians Guide (1991), and We're No Fun Anymore: Helping Couples Cultivate Joyful Marriages Through The Power of Play (2011).
From 1989-1996 Bob was president of the Institute for Advanced Clinical Training, where he organized 11 conferences on trauma, Ericksonian Hypnosis and Brief Therapy, training over 10,000 therapists. He has presented numerous workshops internationally on energy psychology, Ericksonian therapy and treating trauma.
Fred Gallo, President
Fred P. Gallo, PhD, clinical psychologist, has published numerous journal articles, book chapters, and manuals. He has also authored and co-authored eight books, including Energy Psychology; Energy Diagnostic and Treatment Methods; Energy Tapping (with H. Vincenzi); and Energy Tapping for Trauma. He coined the term energy psychology and published the first professional book in the field. Since 1980, he has trained professionals in various therapeutic approaches. Since 1993, he has offered training internationally in advanced energy psychology: Energy Diagnostic and Treatment Methods (EDxTM™), Energy Consciousness Therapy (ECT™), and the Identity Method (IM™). Fred has presented on energy psychology throughout the United States, Canada, and Europe, as well as in parts of the Pacific Rim, China, and Africa.
About the Founder(s)
Founder / Lead Developer: David Gruder and Dorothea Hover Kramer
Executive Director: Robert Schwarz
Address: 233 East Lancaster Ave., Suite 104, Ardmore, PA 19003
Phone: 619-861-2237
Website: http://www.energypsych.org/
Contact Association for Comprehensive Energy Psychology (ACEP)
Please complete the following form and your message will be emailed directly to the Association for Comprehensive Energy Psychology (ACEP). We highly respect and safeguard your privacy and will never disclose your email address to anyone but the organization you are contacting.