Somatic Experiencing Trauma Institute
Somatic Experiencing Trauma Institute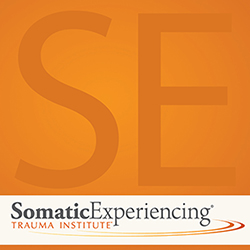 Year Founded: 1972
Model of Therapy: Somatic Experiencing
Somatic Experiencing® (SE), a psychobiological trauma treatment, is the life work of Peter Levine and one approach to the resolution of trauma symptoms and the relief of recurring stress. This method is the result of 45 years of successful clinical use as well as extensive research in the disciplines of stress physiology, biology, psychology, ethology, indigenous healing practices, medical biophysics, and neuroscience.  
This approach can help those in treatment discharge traumatic shock, a necessary step in the transformation of posttraumatic stress and the effects of emotional or early development attachment trauma. When a person responds to trauma by becoming fixed in a fight, flight, or freeze response, the SE approach can determine and assess the person's state and provide that person with the tools necessary to achieve some resolution. These skills are not only used by members of mental health professions, but also by medical professionals, physical and occupational therapists, educators, and others. 
SE holds the development of trauma to result, not necessarily from an adverse event, but from the inability of the body and the mind to process that event. With the help of qualified professionals, people in therapy work toward an increased ability to challenge sensations and emotions they may be withholding or having difficulty addressing. 
The three-year SE Professional Training program provides professionals seeking experience in SE with a thorough theoretical grounding in trauma physiology. A combination of lectures, live demonstrations, guided practice sessions, readings, and audiovisual case studies provides a wide variety of skills professionals can readily integrate into a practice.
Students also receive professional SE sessions and case consultations while in the program in order to develop their working knowledge of SE. Six to eight training modules, each lasting 4-6 days, make up the program. The program's length allows for full integration of SE skills necessary for professional growth. Small class sizes provide an optimized learning environment and allow faculty and training assistants to provide each student with personalized attention. 
About the Founder(s)
Peter A. Levine, PhD

Peter Levine, who holds PhDs in medical biophysics (University of California in Berkeley) and psychology (International University), has spent over 40 years working in the fields of stress and trauma. He worked as a stress consultant for NASA during the first space shuttle's development and has also served the American Psychological Association and the Institute of World Affairs Task Force.

His work exploring the way animals react to and address threats led to his development of Somatic Experiencing, a method of therapy that addresses the effects of trauma on the nervous system. The SE Trauma Institute, founded in 1994, is a nonprofit dedicated to the further development of this therapy.

Levine's work in the field of body psychotherapy earned him the Lifetime Achievement award from the United States Association for Body Psychotherapy in 2010. He received the honorary Reis Davis Chair in Child Psychiatry the same year for contributions to the field of child psychiatry.

He is also the author of several books, including the bestselling Waking the Tiger: Healing Trauma and the recent publication In an Unspoken Voice: How the Body Releases Trauma and Restores Goodness. He has also authored a number of audio learning series for Sounds True.
Founder / Lead Developer: Peter A. Levine, PhD
Executive Director: Brian Dale, Interim ED
Address: 6685 Gunpark Dr. Suite 210, Boulder CO 80331
Phone: 303-635-4035
Website: https://traumahealing.org
Contact Somatic Experiencing Trauma Institute
Please complete the following form and your message will be emailed directly to the Somatic Experiencing Trauma Institute. We highly respect and safeguard your privacy and will never disclose your email address to anyone but the organization you are contacting.