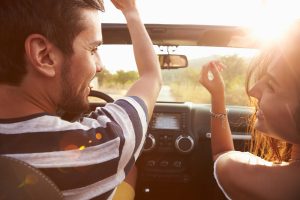 Simply listening to traffic reports on the radio can negatively affect drivers' concentration, according to a study presented at the British Psychological Society Annual Conference.
According to the United States Department of Transportation, distracted driving is a leading cause of car accidents. In 2014, 3,179 people were killed and 431,000 were injured in distraction-related car accidents. Approximately 660,000 people are using electronic devices while driving at any given moment in the U.S. Many states have responded to this distraction rate by enacting legislation limiting the use of electronics. Forty-six states currently ban texting while driving, but none limit radio use.
How Radios Distract Drivers
For the study, researchers asked 36 drivers to "drive" in a large driving simulator while listening to radio traffic updates. Eighteen participants were asked to complete a "simple" task, during which they listened for the moment the voice on the radio changed from male to female. The other 18 participants had to complete a more "complex" task of listening for news updates about a specific road.
remember
other events, such as which car had passed them. They were less likely to obey traffic signs, showed slower reaction times, and had fewer safe driving habits.
Is Keeping Your Eyes on the Road Enough?
Lead researcher Gillian Murphy says safe driving campaigns designed to keep drivers' eyes on the road may not be enough. Simply listening for important information can be sufficient distraction for many drivers. Even when drivers appear to be focusing on driving, their minds might be elsewhere.
References:
Cellular phone use and texting while driving laws. (2016, March 10). Retrieved from http://www.ncsl.org/research/transportation/cellular-phone-use-and-texting-while-driving-laws.aspx
Facts and statistics. (n.d.). Retrieved from http://www.distraction.gov/stats-research-laws/facts-and-statistics.html
Listening to the radio could impair drivers' concentration. (2016, April 25). Retrieved from http://www.alphagalileo.org/ViewItem.aspx?ItemId=163454&CultureCode=en
Newman, T. (2016, May 2). Does listening to the radio make driving more dangerous? Retrieved from http://www.medicalnewstoday.com/articles/309688.php
© Copyright 2016 GoodTherapy.org. All rights reserved.
The preceding article was solely written by the author named above. Any views and opinions expressed are not necessarily shared by GoodTherapy.org. Questions or concerns about the preceding article can be directed to the author or posted as a comment below.