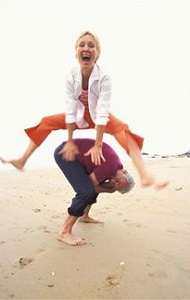 The novel Fifty Shades of Gray has attracted enormous attention since its recent publication. The popularity could be attributed to the characters' scandalous sexual trysts laid out in vivid detail. Or it could be due to the fact that women really do want more sexual pleasure in their relationships. In a recent article, clinical psychologist and sex therapist Dr. Stella Resnick explains why she believes the public has such a voracious appetite for this type of literature. Resnick practices Gestalt therapy, which integrates body and mind presence and awareness. Her experience has taught her that every form of physical contact, including touch, kissing, and even eye contact, increases overall sexual pleasure. She believes that intimate play is an integral part of a healthy sexual relationship.
Resnick has been working in her field for more than two decades and says that contrary to popular belief, men seem to lose interest in sex more quickly than women. This could be a result of the pressures men feel to provide financially and their sense of responsibility as the head of the family. The natural progression a partner makes from lover to family member can actually undermine sexual attraction and excitement for men and women alike. In fact, Resnick says that these feelings of "love" for each other can create barriers to healthy sexual fun. Resnick says that maintaining a sense of playful sexual activity is important for many reasons. "New brain research has shown that what's essential for enhancing new learning is to keep the brain engaged and attentive and that playfulness is one of the best ways to do that," she says. Learning about each other's wants in and out of the bedroom helps broaden the bond between partners both physically and emotionally. Resnick suggests couples engage in conversations about sexual desires and act on them. Taking time to relax and enjoy a sexual encounter, including play, can create a sexual experience that will satisfy both partners and keep both brain and body engaged.
Related articles:
Fanning the Spark of Sexual Passion
7 Steps for Talking Your Way to a Better Sex Life
Different Shades of Sexuality: The Psychological Aspects of BDSM
© Copyright 2012 GoodTherapy.org. All rights reserved.
The preceding article was solely written by the author named above. Any views and opinions expressed are not necessarily shared by GoodTherapy.org. Questions or concerns about the preceding article can be directed to the author or posted as a comment below.