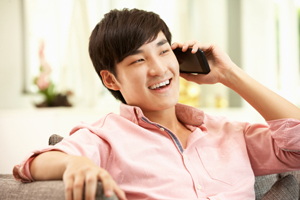 There's no escaping the fact long-distance relationships are tough. From missing out on major events in your partner's life to facing the daily ups and downs of life alone, people in long-distance relationships may struggle to keep their relationships going. But if you're facing a move or already bumping up against the challenges of love across distance, a new study published in the Journal of Communication offers some hope. Researchers studied the communication patterns of 63 couples—about half of which were in long-distance relationships—and found that couples in long-distance relationships may actually have healthier communication patterns and more emotional intimacy.
The Study
To learn about the effects of distance, researchers asked all 63 couples to record the specifics of their daily communications, along with information about how the interactions made them feel. Although people in long-distance relationships communicated less frequently, they felt more positive about their daily communications. They were more likely to report high feelings of intimacy during communication and to appreciate the ways their partners interacted with them.
This is promising news for those working to maintain long-distance relationships. The study emphasizes that about 3 million married couples are involved in long-distance relationships. A large percentage of college students have long-distance relationships, with 75% of them reporting that they have been involved in at least one such relationship.
Why Distance Might Be Better
The study used a small sample and relied on participants' self-reports, so more research needs to be done. It could be that people in long-distance relationships miss their partners and thus are more likely to overlook small communication problems and to report feelings of warmth and intimacy. The study couldn't determine whether communication was objectively better. However, the researchers who did the study emphasized that distance may indeed make relationships stronger. Perhaps people in long-distance relationships work harder to stay together. Social networking, instant messaging, texting, and other relatively new forms of communication can help to keep long-distance relationships strong and increase the amount of communication opportunities people in long-distance relationships have.
Keeping Long-Distance Relationships Strong
If you're in a long-distance relationship, it's not enough to rely on this study and assume your relationship will remain strong. Long-distance relationships take hard work, and the study points toward couples involved in these relationships working harder. Some things you can do to keep your relationship strong when you can't be together:
Take advantage of technological options you might not have had 10 or 20 years ago to stay in frequent contact.
Discuss your expectations about the relationships prior to moving away, and continue discussions about the relationship, meeting one another's expectations, and managing challenges such as jealousy and loneliness.
Focus on maintaining positive communication. Rather than using your partner to vent about the stress of the day, focus on cultivating positive feelings and helping one another feel supported and loved.
Take steps to keep the romance alive by sending each other flirty texts, small gifts, or even old-fashioned love letters.
Don't hit the pause button on your life during the separation. Having friends, a job, and other outside interests can help distract you from the loneliness of long distances, and will make you a more interesting conversation partner.
References:
Castillo, M. (2013, July 22). Long-distance relationships may be stronger, more intimate. CBSNews. Retrieved from http://www.cbsnews.com/8301-204_162-57594916/long-distance-relationships-may-be-stronger-more-intimate/
Gutierrez, J. P. (2013, July 18). Long-distance relationships can form stronger bonds than face-to-face ones. EurekAlert! Retrieved from http://www.eurekalert.org/pub_releases/2013-07/ica-lrc071513.php
Long-distance relationship survival guide. (n.d.). EHarmony Advice RSS. Retrieved from http://www.eharmony.com/dating-advice/relationships/long-distance-relationship-survival-guide/
© Copyright 2013 GoodTherapy.org. All rights reserved.
The preceding article was solely written by the author named above. Any views and opinions expressed are not necessarily shared by GoodTherapy.org. Questions or concerns about the preceding article can be directed to the author or posted as a comment below.