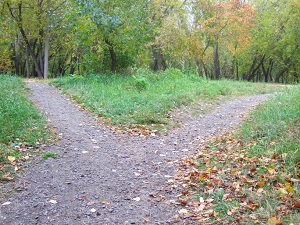 What happens to a relationship when one person changes?
"Vanessa" is on a path of self-discovery and change, but that does not mean that her husband, "Mark," is on the same path. Nor does it mean he wants Vanessa to be on that path or to change who she is. Many times I see couples who come to therapy because someone has changed. "Vanessa didn't used to be this way," Mark said. "When we were first married, she liked staying home and watching television. I don't know what happened."
When you are in a committed marriage or partnership, it stands to reason that you will change. Can you imagine being the same person at age 55 as you were at age 25? But what do you do when your changes and journey do not match up with where your partner is or what he or she desires? What if you find yourselves on different paths?
First, acknowledge the change. Talk about the elephant in the room. Not only is it OK to tell your partner about the changes that you are making in your life, it is imperative to do so. An intimate relationship is about two people and what they create together. In order to keep the health of your relationship and respect it, you must speak to your partner about what is going on for you. Your partner needs to know about the personal changes that you are making, as they affect your marriage. Because these personal changes are long-lasting, not fads or temporary, it will require that the couple have multiple conversations over an extended period. This ongoing conversation may last months and even years.
Second, check in with your spouse. Ask about his or her feelings and needs. Yes, you may be changing, but you also need to tend to the needs of your relationship and your partner. What does your partner need during your process of change? While you may be changing and growing, being in a committed and intimate relationship means that the needs of your partner are essential to you. Considering what he or she needs must be part of your process as well.
Third, determine if you or your spouse is growing in different directions. Notice that I did not say "growing apart" but "growing in different directions." If you are in a long-term relationship, it makes sense that you and your partner will not always be focused on the same thing at the same time. There will be differences even if there were not previously. Acknowledging that you are on different paths and that you have different goals and desires is helpful to your relationship. Once you acknowledge this, you can take the necessary steps to maintain the health of your relationship.
Finally, be respectful of your relationship or marriage. Just because you have different goals or desires does not mean that you cannot be together. It does mean that you need to be more active and conscious about tending to your relationship. When clients see me for couples therapy, my first statement is that their relationship is my primary client and I work for what is best in that relationship.
What does your relationship need to stay strong even if you are making personal and individual changes? Does it need time and attention? Does your relationship need activities that are special and specific to you and your partner? What can remain the same and unchanged that you both enjoy? What compromises do you and your partner need to make? These are a sampling of questions to ask yourself and for you to discuss with your spouse/partner if you want to navigate personal growth while also tending to and allowing your relationship to grow.

The preceding article was solely written by the author named above. Any views and opinions expressed are not necessarily shared by GoodTherapy.org. Questions or concerns about the preceding article can be directed to the author or posted as a comment below.