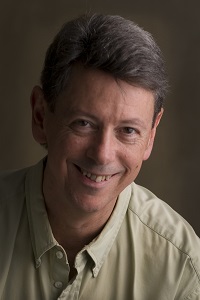 GoodTherapy.org is devoted to advocating healthy, ethical psychotherapy practices, and it's always an honor to connect with someone in the field who shares that vision. Rick Hanson, PhD, is a neuropsychologist who works with adults, couples, families, and children in his clinical practice, as well as a published author.
Hanson's book, Hardwiring Happiness, was published in October 2013 and is already a New York Times bestseller. We were especially excited about the opportunity to chat with Hanson because on July 11, 2014, Hanson will be presenting on "Hardwiring Happiness" as part of GoodTherapy.org's continuing education series.
Drawing on his studies in neuroscience and his understanding of meditation, the insight Hanson shared in the interview reveals the science behind cultivating more positivity and contentment in our lives, as well as how he came to the conclusion that we can, in fact, rewire our brains. As Hanson explains, our minds are naturally programmed to hold onto the negative and not so conveniently forget the positive, which means we need to work a little harder to effectively transform "passing positive states into lasting positive traits."
GoodTherapy.org (GT): Where did this concept of "hardwiring happiness" originate for you?
Rick Hanson (RH): It started back in my own experience when I was a young man, [learning how] to deal with my own sense of a hole in the heart, . . . [which came from] not getting enough normal experiences of being included, wanted, prized, and so forth. Then, [when I was] in college, I started noticing the benefits of doing two little things:
(1) Let everyday good facts in which I was, in fact, seen, included, or liked, become a good experience, and then most importantly, (2) I helped those good experiences to sink in by staying with them, basking in them, and marinating in them; and gradually, doing that really felt like, from the inside-out, I was filling the hole in my heart.
Then, 28 to 30 years later, as a neuropsychologist, I realized that what I'd been doing, based on experience-dependent neuroplasticity, was converting positive mental states to positive neural traits.
GT: In your book, you discuss the brain's "evolved negativity bias." Can you elaborate on why it is that our brains are naturally biased toward negativity?
RH: As an everyday example, let's say 10 things happen in a day with someone you're in a relationship with—five are positive, four are neutral, and one is negative—which is the one you tend to think about when you're falling asleep or keep rehashing in your mind?
We have a brain that continually scans for bad news; second, isolates upon it with tunnel vision when it finds it; and third, tends to overreact to it. . . . Once burned, twice shy. That's the basis of the negativity bias. It's a great way to keep animals and early humans—or even modern humans in tough conditions—alive so they can pass on genes that pass on genes.
But these days, when people are in ordinary environments with reasonable opportunities—with, alas, in this world, some tragic exceptions—the negativity bias leads to a lot of unnecessary distress and stress and psychological dysfunction. It wears on relationships; it creates vicious cycles of conflicts and overreactions; and it also takes years off people's lives in terms of the long-term impact of chronic stress on physical and mental health over the long haul.
GT: Can you give me an overview of what it means to soak in these positive states or "take in the good," as you describe it in your book?
RH: What we think and feel is continually changing the structure of the brain. . . . Any kind of learning must involve some sort of change in brain structure and function. But the breaking news these days is the how of it, and in particular, the idea that we can use targeted mental activity to repeatedly stimulate key neural substrates of wholesome factors in life, such as resilience, self-confidence, secure attachment, compassion for others, mindfulness, etc., and by stimulating those neural circuits, we can strengthen them. . . .
In a time when many, many people feel pushed around by external events as well as by their reactions to them, it's wonderful, I think, to appreciate that we have this power from the inside out. . . . If we want to change, we have opportunities all day long to take in the good and make it a part of us. . .
Even in a hard life, even in a difficult life, there are authentic opportunities, at least a few minutes every day, to be mindful of the good that's actually present in this minute and then help it install in the brain rather than wasting it, in effect, by letting it wash through our minds like water through a sieve.
GT: This concept of sitting with our positive experiences and allowing them to sink in conjures images of meditation and its ability to lift people into higher mental states. I know you have a background in Buddhism; was there an "aha" moment in your studies where the neuroscience-Buddhism connection just clicked?
RH: It always struck me that if we could gradually calm the mind and gain control over our attention, then that was a really important way to be more effective, more self-reliant, happier, and even have opportunities for the real pinnacles of human potential which have to do with various kinds of awakening. . . . Ten years ago, a critical mass of research had been developed in the general field of neuroscience in which it became increasingly apparent that the various mental states that we all want, like inner strength and inner peace, were based on increasingly well-identified underlying neural processes and structures and networks and activity.
Myself and many others in the field began [realizing] that . . . if we start to understand what is going on inside the mind of a long-term meditator who by all accounts is very resilient, a paragon of mental health, . . . then what we can do in a very deliberate and targeted way is stimulate those same networks in one's own brain, and through stimulating them, strengthen them.
GT: Is it possible for any brain to change? What about those who grow up in unloving, unstable, potentially abusive households?
RH: We have a lot of existence proofs of the possibility of people who are terribly troubled or disturbed or injured or wounded by their childhoods being able to fundamentally change their own brains—no question about that. . .
[However], this is controversial in the field right now, [but] there is the possibility of catastrophic trauma with vulnerable children at an extremely young age, like 0 to 3, [where] . . . the brain [may be] permanently injured and cannot reacquire fundamental capabilities for happiness and effectiveness and lovingness in everyday life. The jury is out about that.
And [yet], particularly with new treatments . . . that are more and more based on a deeper knowledge of what's actually going on inside the black box of the brain, the sky's the limit for what could possibly happen. I think a foolish person bets against the human heart and spirit and against the human brain. But you have to do the work; the bigger the injury, the more work you have to do.
GT: GoodTherapy.org is dedicated to the mission of promoting healthy and ethical therapy. In your opinion, how does this practice of hardwiring happiness constitute "good therapy"?
RH: I think good therapy is therapy in which the client gets the kind of change he or she wants; good therapy leads to good change. And even if the change is a deeper acceptance of what cannot be changed, that's still a change. . . The question then becomes, what's the how of change?
And that's where I think, in the language of the neuropsychology of learning, good therapy involves good installations. . . If people don't actually register their useful mental states, if they don't take in the good of them, if they don't hardwire them into their brains, then there won't be much lasting value.
GT: Rick, we appreciate your knowledge and your insight; thank you so much for setting aside the time to talk!
Be sure to register for the 9 a.m. web conference on July 11, 2014, during which Rick Hanson will be discussing the brain's negativity bias and his 4-step HEAL process to cope with and overcome past experiences. This two-hour conference is worth two continuing education credits.
© Copyright 2013 GoodTherapy.org. All rights reserved.
The preceding article was solely written by the author named above. Any views and opinions expressed are not necessarily shared by GoodTherapy.org. Questions or concerns about the preceding article can be directed to the author or posted as a comment below.