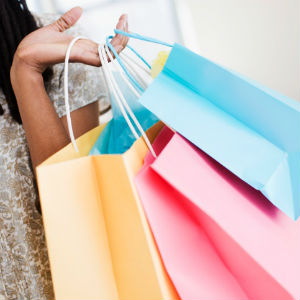 Sometimes there's nothing a worried brain likes more than to go shopping.
Shopping can be creative and social. It's often optimistic and happy-future-oriented. Plus, it's distracting. For that moment, every other problem, thought, and plan recedes—it's only you and the lipstick. Your only worry is deciding between Lady Danger and Ruby Woo. (And why not get both; they're very different!) "I always say shopping is cheaper than a psychiatrist," Tammy Faye Bakker once said.
Worried people are often the best-dressed people in a room. Have that tough conversation with your spouse or go shopping? Pop online and pay the bills or go shopping? If you look long enough for the right shade of lipstick, the right pair of pumps, and maybe a really cool bag to make the outfit, things might just get resolved by someone else. Why talk it over when you can shop it out? Like Scarlett O'Hara, "I'll think about that tomorrow."
Distraction shopping comes in all shapes and sizes. It isn't just for compulsive shoppers. And this isn't just a Hermès crowd issue—it's discount shoppers, outdoor gear shoppers, vintage shoppers, and yoga outfit shoppers, too. It's for anyone who fills empty moments trolling for something.
For some, the feeling of shopping, and all the possibilities it presents, gets the pleasure circuits in the brain really happy. And there's always more we need to buy: the proper-width pant legs; ties; the right length of skirts; the current "in" color of paint.
There's so much to consider. "Does this look good on me?" is much more fun to think about than, "Am I saving enough for retirement?" Plus, it's an activity. We are doing something when we shop.
Sometimes, though, what people are really doing is avoiding. Avoiding boredom. Avoiding conflict. Avoiding responsibility. Avoiding feelings. Avoiding the abyss. Sometimes we don't know what to do with the free time we have, so we shop. And sometimes there is nothing wrong with that.
There are times in a person's life when we surely could benefit from a distraction. And while some of us may happily buy tombstones that read, "She shopped until she dropped," many of us want to do something else with our lives, something our job, family, or friends can't provide. What that something is, is different for everyone. Not knowing what it is, and avoiding thinking about what it might be, keeps us from ever finding out.
How do you know if you're a distraction-seeking shopper?
Is your closet busting with clothes?
When you get home after shopping, can you remember everything you bought? Are you surprised to find, say, a cute, glittery bracelet at the bottom of a bag?
Are you restless when you get home from the store?
Can you go two days in a row without looking at online deals?
What are we avoiding? It might be a full life—figuring out who we are and how we want to contribute (besides contributing cash to the economy). What do we want to explore? What's the big idea? When will we start training for the marathon, writing the novel, spending more time with the kids, painting, or traveling?
Ideas are endless; our time is not. And so sometimes we worry. And sometimes we shop.
© Copyright 2014 GoodTherapy.org. All rights reserved.
The preceding article was solely written by the author named above. Any views and opinions expressed are not necessarily shared by GoodTherapy.org. Questions or concerns about the preceding article can be directed to the author or posted as a comment below.