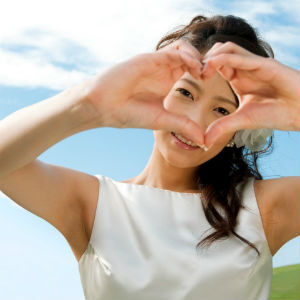 Most of us just flow along through life without a clear vision of what we want in our future. At least that's what I did for many years. I drifted in and out of relationships just because someone showed up at a time when I was available. I was not making a conscious choice as to who would be a suitable life partner and ended up divorced by age 34. I spent the next 12 years living alone, continuing to drift in and out of relationships that weren't well-suited to me. The only thing I had clarity on during that time was finishing graduate school.
Having a vision—a mental picture—of your desire for the person you want to be and what you want to accomplish is vital. If you want a relationship, and most of us do, you also need to have a vision of the qualities and characteristics of the person you want to share your life with. This is essential for choosing well. Having a vision and a goal helps you get from where you are to where you want to be in your life.
You need to know what is important to you and what you desire in a mate. If you go with whoever is available at the time, you are likely to end up wondering later why your relationships didn't work.
Having a list may seem superficial, but it is extremely important. Once you have a list of the essential qualities and characteristics of the person you want, you can start interviewing. Based on the answers you get, you can sort out who meets your criteria and move on from those who don't.
If they don't meet your criteria 100%, you might be inclined to overlook the things they don't have as not that important, since they have the other attributes. Or you may decide these are things you can fix by getting the other person to change. (I would suggest this is not likely.) Or you might consider it a deal-breaker. If you have a list of 10 qualities and you meet someone who has nine of the 10, it is the one that he or she doesn't have that is likely to become a perpetual problem in your relationship.
For example, as a single person one of my requirements was that the person was available—meaning never married, divorced, or not attached. If they were still married, still living in the same house, hadn't yet filed for divorce but said they were going to, those were deal-breakers. Remember, you are not going to change someone else.
When you find a person who meets your criteria and would be a good life partner and a good match for you, and the two of you begin to form a relationship, this is the time to develop a "shared vision" for your relationship. As a certified imago relationship therapist, this is one of the first exercises I ask couples to do.
Do the two of you want the same thing? Do you share the same values? I am hoping that this was part of your original interviewing and that you know you're both on the same path. It is harder to negotiate these differences after you are emotionally involved.
How is it the two of you want your relationship to grow and develop? How do you envision your future together? Will there be children? What will your career and professional life look like? Where would you want to live and have a home? Would it be near family? Do you want to travel? There are so many more things to discuss and agree on. Make sure you cover as many as you can identify.
Having a vision such as this to refer to when times get tough (and they will, and do, in all relationships) is very valuable. I have known of couples who wrote down their vision prior to marriage and used their vision statements during their wedding vows.
We need to be conscious, and to have clarity and commitment, to develop a mature relationship that can last for decades and be a joyful celebration of the partnership. If you need help or guidance on your journey, consider seeking a therapist.
© Copyright 2014 GoodTherapy.org. All rights reserved. Permission to publish granted by Marian Stansbury, PhD, Imago Relationship Therapy Topic Expert Contributor
The preceding article was solely written by the author named above. Any views and opinions expressed are not necessarily shared by GoodTherapy.org. Questions or concerns about the preceding article can be directed to the author or posted as a comment below.