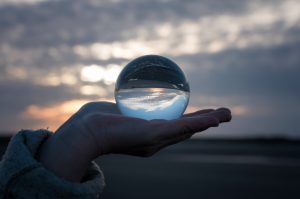 "It is not the man who has too little, but the man who craves more, that is poor." —Lucius Annaeus Seneca
Do you put stock in the phrase "not enough"? Do you question whether you are smart, sexy, accomplished, patient, bold, kind, generous, or talented enough? Do you wonder if you have enough?
Is "enough" difficult to define in the first place? You might simply be stuck in a scarcity mind-set.
When you are grounded in thoughts of abundance, you believe there is enough to go around, that someone else's having doesn't imply your deprivation or being without. This thought process can apply to success, wealth, relationships, happiness, fulfillment, etc.
The scarcity mind-set can be the factor that keeps us limited. When we hold a belief closely, we look for evidence to support it. In scarcity mode, we see the glass as half empty and search for all the ways in which we feel slighted, ill-equipped, or shortchanged. This prevents us from developing awareness around opportunity. Thinking there is "none to be had" will squash our motivation and impetus to move forward.
The scarcity mind-set can belie a lack of commitment. When we make excuses for ourselves, we often do so by calling out the things we are lacking, and implying those resources or tools are beyond our reach. We say things like, "There isn't enough time in the day" or "I wish I had the money." We have much to gain by challenging these beliefs and by becoming abundantly clear about what our priorities are.
If something is extremely important to you, you can often find the time in your day to devote to it. You may have to say "no" to other things that fall lower on your priority list. For example, if you are determined to exercise, you may need to sacrifice some sleep and get up 30 minutes earlier than you normally would to fit in a workout. You could get creative and figure out a way to squeeze in some exercise while multitasking, such as being on a business call or strategizing with your team while you walk around your office complex. When we manage our time effectively, we find the time to do the things we deem important. If you assume time is scarce, take a closer look at your schedule and evaluate whether you can carve that time out.
The scarcity mind-set perpetuates itself. It leaves us feeling stuck, less than, deprived, and powerless. Consider whether there just might be "enough" of what you seek to go around.
Each of us has a relationship with money. Some of us have a sense of ease and comfort, and others associate money with struggle. Some will put themselves in a state of deprivation without legitimately investigating whether they can afford the thing they want or need. There might be other options, like spending less on things you don't really need (reallocating your funds) or seeing what is buried in your closets or attic that might be of value to others (funds you didn't know you had).
To visualize the scarcity mind-set, I picture someone with fists closed tightly in an effort to hold on to what little they perceive they have. The trouble is when our hands are closed, they aren't open to receiving. We can use this as a cue. If we find ourselves holding on to something too tightly, it may indicate we are no longer open to acquiring more of it.
To combat the scarcity mind-set, we can do three things:
Practice gratitude. Develop an awareness around all you do. Consider whether it might just be "enough." That positivity invites more reasons to be grateful.
Let go of blame. When we blame, we indicate our power is in others' hands. If we are willing to take as much responsibility as we can for ourselves and what we have, we are more likely to find avenues to creating the kinds of wealth we seek, and we let go of the excuses that hinder our progress.
Remain open to possibilities. Our beliefs have incredible power and can become self-fulfilling prophecies. Don't get stuck in believing you aren't, or you'll never have, enough.
The scarcity mind-set perpetuates itself. It leaves us feeling stuck, less than, deprived, and powerless. Consider whether there just might be "enough" of what you seek to go around.
© Copyright 2017 GoodTherapy.org. All rights reserved. Permission to publish granted by Laurie Leinwand, MA, LPC, GoodTherapy.org Topic Expert
The preceding article was solely written by the author named above. Any views and opinions expressed are not necessarily shared by GoodTherapy.org. Questions or concerns about the preceding article can be directed to the author or posted as a comment below.