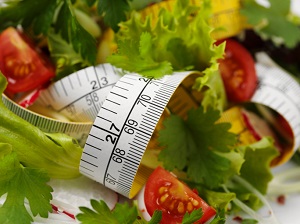 It's not exactly earth-shattering to say we live in an appearance-obsessed world. Models keep getting thinner and celebrities keep resisting the aging process, with "normal" people stuck trying to live up to an unrealistic body image. According to Medical News Today, 80% of women say that they're unhappy with their appearance and 80% want to lose weight. With so many people so unhappy with their bodies, it can be tough to tell when a diet crosses the line into what is diagnosed as an eating disorder, particularly in an era where fad diets reign supreme.
It's important to note that a person can have an unhealthy body image without having serious eating or food issues. Many people who go on diets may be unnecessarily hard on their bodies or experience low self-esteem, but a diagnosis of an eating disorder involves a severely distorted body image and extreme health threats. Even when a diet doesn't rise to the level of an eating disorder, it can still indicate problems with self-image, and people stuck on perpetual dieting may benefit from therapy.
Physical Well-Being and Diet
Eating issues can have disastrous physical consequences ranging from hair loss to heart attacks. One of the simplest ways to judge whether a diet has morphed into a diagnosable eating disorder is to examine physical well-being. When a person loses more than a pound or two a week, it could mean they're not getting enough food. Any diet that requires a person to cut calories so severely that they can't get enough nutrients can give rise to an eating disorder. And if a person develops serious physical health issues, becomes weak or shaky, tends to faint or have dizzy spells, or has very low blood pressure, it's more likely to be a serious food or eating issue than a diet.
Fad Diets
It seems that every few months people are jumping on a new diet bandwagon, from Atkins to Paleo and gluten-free to raw eating. But not all fad diets are "bad." Instead, the problem with fad diets is that they can be taken to an almost religious extreme, and this can lead to eating disorders. Some people who adopt fad diets begin to believe that even a minor deviation from the diet poses an urgent health risk. A person who leads a gluten-free lifestyle might, for example, refuse to eat foods containing gluten, even if nothing else is available. This habit can starve the body of nutrients and can become particularly problematic is a person is traveling, camping, staying with friends, or otherwise unable to follow the chosen diet.
A New Type of Eating Issue Risk
Many nutritionists are now acknowledging a new type of eating issue called orthorexia. People with this condition are obsessed with eating "clean" organic foods. At first blush, this sounds like a great idea, but even the healthiest of diets can be taken to an extreme. People with orthorexia tend to obsessively check nutrition labels and become perfectionists with their food intake, often eliminating entire food groups from their diet. Someone who demonstrates orthorexia might, for example, began as a vegetarian, become a vegan, then progress to eliminating wheat, all processed foods, any nonorganic foods, and any foods that aren't local or seasonal. This can severely limit a person's diet, often to only a few foods that don't provide sufficient nutrition.
Psychology and Diet
People with eating and food issues generally have extremely distorted body images. Of course, it's hard to discern what constitutes a distorted body image in a society where many people loathe their appearance. But generally, people with eating disorders perceive themselves as fat, even when the scale says otherwise, and often use adjectives such as disgusting to describe their bodies. A person who simply has a poor body image, by contrast, might be unnecessarily critical of his or her body but will convey less contempt for it.
Some, but not all, people with eating or food issues are already very thin. It's a red flag when someone with a thin body says he or she wants to lose weight or seems to be willfully avoiding basic nutrients. Research more of the warning signs, so that you can be aware when a friend or loved one may be endangering himself or herself with risky eating or food behaviors.
References:
Dieting can lead to eating disorders. (2006). Medical News Today. Retrieved from http://www.medicalnewstoday.com/releases/54635.php
Eating disorders warning signs. (n.d.). ANRED. Retrieved from http://www.anred.com/warn.html
Lankford, R. D. (2007). Can diets be harmful? Detroit, MI: Greenhaven Press.
Sund, E. (n.d.). Orthorexia: An obsession with eating "pure" What Is Orthorexia? Retrieved from http://www.eatright.org/Public/content.aspx?id=6442471029

The preceding article was solely written by the author named above. Any views and opinions expressed are not necessarily shared by GoodTherapy.org. Questions or concerns about the preceding article can be directed to the author or posted as a comment below.