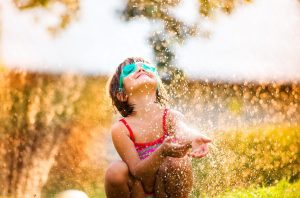 There seems to be a lot of information out there about relationships with others, but not as much is said about the relationship you have with yourself. I'm a huge believer that the relationship you have with yourself is the most precious of all. Everything else stems from that relationship. If you have a solid foundation in appreciating how you think, what you believe, and how you see yourself, every connection you make and everything you put your energy into will reflect that.
Here is a question for you: How often do you consider outside information about who you are as opposed to looking within for the truth?
Maybe I can help. The truth is there is nothing wrong with you. You're just right the way you are; I don't care what "proof" you think you can dig up to argue otherwise. When you gauge who you are based on others' perspectives, you're giving away a lot of your power and sense of self. Another person's view of you, whether positive or negative, is just that—their perspective. It's not the final word. It's not definitive. Be rooted in who you are so you can make choices and live a life that matches your true essence.
Here are some things to remember when someone or something comes along that leads you to doubt who you are and what you stand for:
1. It's Not Personal
Nobody other than you could possibly know what your heart wants and what your desires are. Nobody. Criticism and negative reactions that you receive from others have little or nothing to do with you. It's not personal.
If an outside reaction toward you is judgmental and strong, that points to another's hurt, pain, and "issues" being misdirected onto you. Take these reactions with a grain of salt, especially when the other person is highly emotionally charged.
2. Identify Your Support Network
When you need some reassurance because you're feeling ungrounded and doubtful, seek out the people in your life whom you love and respect to provide you with some TLC.
We all need validation every now and then in order to keep self-doubt at bay so we can clearly see our strengths and true character. Know who you can lean on when you need a little pick-me-up, and don't be afraid to lean on those people as needed.
If an outside reaction toward you is judgmental and strong, that points to another's hurt, pain, and "issues" being misdirected onto you.
3. Your Idea of Happiness Is Happiness
None of the external stuff (labels, praise, etc.) matters more than how you view yourself. Saying this reminds me of the tale about the person who appears to have it all—the abundance of money, the loving family, the solid relationships, the booming career—yet finds themselves unhappy. Your definition of happiness may not be someone else's. What makes you happy might not be what the world says should make you happy.
Learning to accept this is important in allowing yourself to just BE. Everyone is free to like what they like, including you. Stay mindful about what is important to you, and continue doing the actions and behaviors that allow you to feel content. That everyone will have their own opinions, opinions that might fall on the other end of the spectrum from yours, is a healthy reality to get comfortable with. Allow others to have their bliss and, in turn, allow yourself to find and have it too.
4. Differences Make the World Go 'Round
Just because someone views something differently than you does not mean they are right. The concept of "right" and "wrong" can, at times, encourage pretty restrictive, black-and-white thinking that tends to divide instead of bridge people. A world filled with people who make different choices and have different opinions makes life interesting. As much as it can get challenging when someone thinks differently than you, it's within that moment you are presented with an opportunity to learn, drop judgment, and see another way. In a nutshell, this is how you grow.
Outside perspectives have their place, and that's outside. If you haven't done so yet, I encourage you to take some time and energy to ensure you are respecting, loving, and taking care of your amazing self. Instead of doubting who you are and what you enjoy, stand for it. After all, at the end of the day, the only opinion that matters and dictates the quality of your life is yours.
© Copyright 2016 GoodTherapy.org. All rights reserved. Permission to publish granted by Kim Egel, MA, MFT, GoodTherapy.org Topic Expert
The preceding article was solely written by the author named above. Any views and opinions expressed are not necessarily shared by GoodTherapy.org. Questions or concerns about the preceding article can be directed to the author or posted as a comment below.