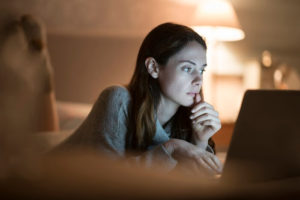 Plenty of research supports the rapidly increasing popularity of telemental health services. Advertisements for these services are fairly widespread—you've probably seen a few, yourself.
These ads help normalize therapy by making it seem easy (and perfectly ordinary) to talk to a professional about mental health symptoms. But they may not necessarily offer a complete picture of what telemental health can accomplish.
It's difficult to deny the potential benefits of online therapy. It vastly increases the accessibility of therapy to many, including people who live in rural areas, lack ease of mobility, or who find it difficult to leave their homes. Telemental health services also typically cost less than face-to-face therapy, which can help break down the cost barrier that keeps many from seeking professional support.
These benefits aside, online therapy isn't right for everyone. It can work well as a treatment for certain mental health symptoms, but some situations may require a more traditional face-to-face therapy approach. Read on to learn more about when telemental health care might offer the most benefits—and when it's probably best to seek support offline.
Signs Therapy Could Be Helpful in an Online Setting
When it comes to seeking therapy, the most important outcome, of course, is getting good support. For some people, online therapy is the best or only way to obtain that support.
Certain mental health concerns, including depression, can make it tough to get out of bed each morning, much less leave the house for a therapy appointment. But without therapy, depression often doesn't improve. This can create a distressing, sometimes dangerous, catch-22 situation for many people living with serious symptoms of depression.
Telemental health offers an approach around this issue: therapy that can be accessed at home, in whatever situation. Research from the University of California at Berkeley supports this finding: A study found evidence to suggest 318 people using an online therapy service to address depression symptoms saw significant improvement.
The decision to seek therapy, and the choice of therapy approach, is personal. The following considerations can help you decide whether online therapy might have benefit in your situation:
Best Types of Therapy to Practice Online
Existing research on online therapy largely focuses on cognitive behavioral therapy. CBT is one of the most widely used treatment approaches, particularly for symptoms of depression.
Most studies have found CBT an effective online therapy approach. A review article from 2017 considered nearly 400 published research articles on internet-based CBT, finding evidence to suggest it had benefits for people experiencing a range of concerns, including:
A 2013 study found that when combined with internet-based CBT, eye movement desensitization and reprocessing (EMDR) alleviated symptoms of posttraumatic stress (PTSD) for a significant number of people.
More research from 2013 found evidence to suggest online psychodynamic therapy could have benefit for anxiety and depression symptoms.
Online-based interpersonal therapy also appears to have benefit for depression symptoms, according to 2013 research.
Couples counseling is another approach gaining some traction online. People considering online relationship counseling may find it most effective when conducted through video chat rather than email or text message, however.
Signs a Type of Therapy Is Not Suited to an Online Setting
Online therapy isn't always recommended. Some mental health professionals have expressed the opinion that for some mental health conditions, online therapy is not better than no therapy at all. Rather, it may actually have a negative impact. The reasoning here is that online therapy doesn't allow much opportunity for the rapport necessary for a strong therapeutic relationship.
That said, some people experiencing deep distress may find the relative anonymity of online therapy comforting. It may seem easier to talk about abuse, rape, or thoughts of suicide through the more removed setting of a smartphone or computer screen. But people who need to develop trust in their therapist before opening up may not find it easy to share their symptoms or pain with someone they have never met or interacted with in person.
One of the key arguments against telemental health services is this lack of in-person contact, which many believe essential to the success of therapy. Conducting a therapy session through secure video chat allows for some face-to-face interaction, but at the same time, many nuances of tone, body language, or expression may disappear in a small screen, weak connection, or technical difficulties.
Research has found depression and anxiety symptoms tend to respond well to the format of online therapy, and many people see improvement. However, when these symptoms develop in response to deep distress, such as that resulting from childhood neglect or abuse, an online setting may not provide the necessary room to get at the heart of this deep-seated pain. Symptoms may improve for a time, but if the underlying cause isn't addressed, they may return.
A diagnosis isn't always necessary for effective treatment. Often, getting help for symptoms leads to improvement, which is typically the goal of treatment. However, people in need of a specific diagnosis for insurance purposes, or people who simply want more insight on what they're experiencing, may find it harder to share the information necessary to receive an accurate diagnosis. Similarly, therapists may find it harder to make the correct diagnosis through an online format.
Online therapy is usually not advised for people with severe symptoms or concerns that may require careful evaluation. After beginning a treatment plan with a therapist in-person, you may be able to move to an online approach in time, but you may find it more beneficial to seek in-person support for symptoms of:
Some therapy approaches simply don't work well in an online format. It may be best to seek in-person support if you're interested in treatments such as:
In the end, only you can decide the right approach for your needs. As it becomes increasingly common for therapy to be conducted in an online setting, and as it becomes more common for people to seek out health services online, more therapeutic approaches may be found effective when provided in this format. Online therapy has helped a lot of people, so it may be worthy of consideration if you want professional support but feel hesitant to try face-to-face therapy.
Find a therapist who practices therapy online today.
References:
Barak, A., Hen, L., Boniel-Nissim, M., & Shapira, N. (2008). A comprehensive review and a meta-analysis of the effectiveness of internet-based psychotherapeutic interventions. Journal of Technology in Human Services, 26(2), 109-160. Retrieved from https://tandfonline.com/doi/abs/10.1080/15228830802094429#.VI8vaCvF_hs
Berger, T. (2014). Internet-based psychotherapy treatments. Retrieved from https://societyforpsychotherapy.org/internet-based-psychotherapy-treatments
Donker, T., Bennett, K., Bennett, A., Mackinnon, A., van Straten, A., Cuijpers, P., Christensen, H., et al. (2013, May 13). Internet-delivered interpersonal psychotherapy versus internet-delivered cognitive behavioral therapy for adults with depressive symptoms: Randomized controlled noninferiority trial. Journal of Medical Internet Research, 15(5). doi: 10.2196/jmir.2307
Johansson, R., Björklund, M., Hornborg, C., Karlsson, S., Hesser, H., Ljótsson, B., Rousseau, A., et al. (2013, July 9). Affect-focused psychodynamic psychotherapy for depression and anxiety through the Internet: A randomized controlled trial. PeerJ. doi: 10.7717/peerj.102
Kumar, V., Sattar, Y., Bseiso, A., Khan, S., & Rutkofsky, I. H. (2017). The effectiveness of internet-based cognitive therapy in treatment of psychiatric disorders. Cureus, 9(8). doi: 10.7759/cureus.1626
Marcelle, E. T., Nolting, L., Hinshaw, S. P., & Aguilera, A. (2019, January 23). Effectiveness of a multimodal digital psychotherapy platform for adult depression: A naturalistic feasibility study. JMIR mHealth and uHealth, 7(1). doi: 10.2196/10948
Novotney, A. (2017). A growing wave of online therapy. Monitor on Psychology, 48(2), 48. Retrieved from https://www.apa.org/monitor/2017/02/online-therapy
Spence, J., Titov, N., Johnston, L., Dear, B. F., Wootton, B., Terides, M., & Zou, J. (2013). Internet-delivered eye movement desensitization and reprocessing (iEMDR): An open trial [version 2; peer review: 2 approved]. F1000 Research, 2. doi: 10.12688/f1000research.2-79.v2
What you need to know before choosing online therapy. (n.d.). American Psychological Association. Retrieved from https://www.apa.org/helpcenter/online-therapy
Wong, K. P., Bonn, G., Tam, C. L., & Wong, C. P. (2018). Preferences for online and/or face-to-face counseling among university students in Malaysia. Frontiers in Psychology, 9(64). doi: 10.3389/fpsyg.2018.00064

The preceding article was solely written by the author named above. Any views and opinions expressed are not necessarily shared by GoodTherapy.org. Questions or concerns about the preceding article can be directed to the author or posted as a comment below.