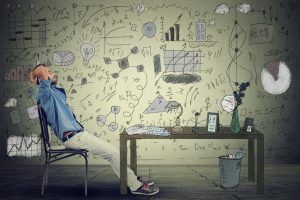 Some people say they work best under pressure, that a looming deadline is about the only thing that serves to motivate them and get those productivity pistols firing. However, those same people often arrive at a point in their lives when this is no longer optimal. They are tired and stressed and feel like they're always behind and playing catch-up. They begin to miss deadlines and suffer the consequences (poor performance reviews, lost opportunities, late fees, disappointment and anger from others, etc.). That's when they realize a change is needed, that what may have worked before doesn't suit any longer.
They say, "I'm a procrastinator." It's become how they define themselves. They wonder, "How can I do it any other way?"
It's important to understand why procrastination doesn't work long-term. Leaving things until the last minute results in having fewer choices. Too many options can be overwhelming for some, but constantly limiting them means you're never really given the opportunity to advance or improve.
Sometimes procrastination is driven by the fantasy that an undesirable task will ultimately be removed from your realm of responsibility. However, if you look at the evidence history has to offer, it rarely happens. Maybe you believe that a "legitimate" excuse will surface so you don't have to complete the task, but it never comes. For example, a snow day or tax extension only prolongs the period of time you might agonize over getting something done.
Procrastinating delays what eventually has to get done.
There is the discomfort, anxiety, and weight of having something hanging over your head. You don't have the increased satisfaction of crossing something off your to-do list ahead of time. You might feel ill-prepared and end up delivering a product that's subpar. Your reputation might suffer because you can't be counted on to turn things over in a timely manner. If you're a member of a team, you demonstrate disrespect for your peers and possibly cause their work to suffer as well.
Procrastination is like sitting on a fence. It gets incredibly uncomfortable after a while.
Procrastination is like sitting on a fence. It gets incredibly uncomfortable after a while.
Making a choice to get off the fence and do something is not as hard as it may seem.
There is far more power in doing, rather than simply thinking or talking about it. In other words, it feels great to be able to tell someone "I'm working on that and I'll have it to you by Friday" (and mean it) rather than "I haven't gotten to it yet." When you tell yourself you don't have time for something, what you often mean is the task is not a real priority for you. If it was, you'd find a way to find the time.
So what to do about it?
Make tougher tasks a priority. Crossing them off your list first sets your mind at ease and removes an emotional burden you would be carrying with you a lot longer otherwise.
Use "block" scheduling. Pencil obligations (or parts of them) in to your calendar. You can do this in shorts breaks between meetings as well as in larger segments of time. This is taking the to-do list to another level by assigning tasks their own specific slots in which to accomplish them. This combats that sense of overwhelm you might experience in connection with having too much to do. Once you assign a task a time, you don't have to direct your attention to it until that time comes, freeing you to focus on what you choose to pay attention to now, knowing you haven't forgotten about those other things and you will get to them sooner rather than later. Be sure to honor assignments you've scheduled and let the visual prompt of seeing them on your calendar serve as a motivator.
Offer yourself a "carrot." When your project is complete, give yourself a reward. This might simply be working on items you enjoy more, or spending time with friends, taking a well-deserved nap, or finding time to watch your favorite show.
Be aware of all the benefits of getting things done ahead of time. Again, these include having more opportunities available to you, additional help or resources, constructive feedback, less anxiety, improved sleep, and improved relationships (no one wants to keep nagging you to get things done).
Remind yourself of the discomfort you feel when you continuously procrastinate. Let that prompt you to go do something about it.
When we wait for the "perfect" time or circumstances to tackle certain chores or tasks, that time rarely comes. We have to simply take action, and by beginning, we discover momentum because we like how it feels to "overcome" or take charge of something.
There is a sense of relief (sometimes euphoria) in getting things done. Why put that off? We often make things bigger in our minds than they really are. The sooner we begin something, the sooner we may discover it's not as daunting as we originally imagined.

The preceding article was solely written by the author named above. Any views and opinions expressed are not necessarily shared by GoodTherapy.org. Questions or concerns about the preceding article can be directed to the author or posted as a comment below.