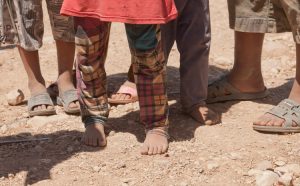 Though the United States formally ended its war in Iraq in 2011, Iraqis continue to experience high levels of violence at the hands of terrorists and foreign and domestic soldiers. The violence has displaced many Iraqis from their homes—at least 400,000 from Mosul and surrounding areas since October. Many of those not directly affected by violence have witnessed it in the form of beheadings, amputations, and other grotesque acts.
The result is a mental health crisis, particularly for Iraqi children. Many children who have witnessed violence or been displaced by it experience symptoms of posttraumatic stress (PTSD), including nightmares, anxiety, and developmental regressions such as bed-wetting.
Iraq's mental health facilities are poorly equipped to handle the influx of people in need of care. Most psychiatrists can only devote a few minutes to each person seeking care, and wait times are increasingly long. Organizations such as Doctors Without Borders have stepped in to fill the gap. People who receive mental health care generally report symptom improvements, despite the violence that surrounds them.
gratitude
with a thank you note, focusing on the positive, identifying and listing your strengths, or offering an excited and constructive response to someone else's good news. These well-being workouts may help relieve
stress
and anxiety.
Some research suggests a history of mental health conditions increases the risk of Alzheimer's and other forms of dementia. A new study undermines this notion, finding no correlation. Instead, the study identified advancing age, mild cognitive impairment, and family history as leading risk factors for Alzheimer's. Additionally, research shows people with Down syndrome tend to develop Alzheimer's a decade or more before their peers.
Interventions can encourage someone with addiction or other mental health issues to seek help. Traditionally, loved ones have waited until the subject of the intervention hits "rock bottom." A softer approach recommends intervening earlier and offering gentle support and empathy during the intervention. A demonstration of strength and support during an intervention may produce better results than one that comes across as aggressive and judgmental.
Crying to sad music might seem like a recipe for feeling worse, but findings from a new study show a good cry may improve mood. The study suggests people may derive pleasure from the sadness of a sad song, offering a calming effect.
Theater performances can help kids with hearing loss feel less isolated. In 1997, Michelle Christie founded No Limits Theater Group, which offers children with hearing loss the chance to perform on stage. About 600 children and their families work with the organization each year. It has produced 100 plays in 13 states, reaching an audience of more than 200,000.
Mindfulness-based group therapy may be just as effective as cognitive behavioral therapy (CBT) for addressing a range of mental health symptoms, according to a study of 215 people with depression, anxiety, and conditions related to stress. Mindfulness encourages people to cultivate awareness of the present moment, and the practice can help reduce rumination and worry about the future.
© Copyright 2017 GoodTherapy.org. All rights reserved.
The preceding article was solely written by the author named above. Any views and opinions expressed are not necessarily shared by GoodTherapy.org. Questions or concerns about the preceding article can be directed to the author or posted as a comment below.