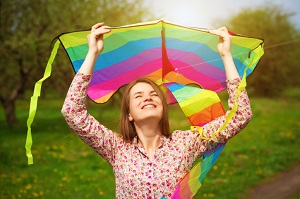 Recently, I heard artist Phil Hansen deliver a TED (technology, entertainment, design) Talk. He spoke of how letting go of outcome, failure, and imperfection paved the way for the greatest period of creativity he had ever known.
Just imagine, if you can, how drastically your life would change if you let go of your attachment to certain outcomes, and fear of failure or imperfection. With no self-imposed psychological limits, what might you do? How many new things would you try if the inner mandate of having to have a certain outcome was not there to impede you? How would you speak to people if you felt free of self-consciousness and the desire to have people see you a certain way? After all, isn't self-consciousness just another form of attachment to a self-imposed ideal? What would your day-to-day life feel like if you weren't afraid of looking foolish and went with your gut feelings without over-analyzing every decision ad nauseam for its failure potential? How much faster would you get dressed in the morning if imperfection was OK?
Notice when you are stymied how often it is from the internal, almost automatic fear of imperfection, poor outcomes, or failure. Watch how doing things well (i.e., within the confines of what you think is acceptable) hampers your joie de vivre, spontaneity, and creativity. You may want to experiment with a different approach by giving yourself the opportunity to do one thing differently, without the constraints of a preconceived "should," or as Karen Horney called them: the "tyranny of the shoulds."
Some examples of shoulds that get in the way of living as joyfully as you can are:
Everything must go exactly to my plan. If not, I am doomed to be irritable, cranky, pouting, and just miserable.
I can't look silly, even if I am trying something for the first time.
I must be excellent at everything I attempt, and if I'm not, I have to make myself feel lower than a snake's wiggle.
People should respect me at all times. If they don't, that reflects poorly on me and is absolutely intolerable.
If I can't do something perfectly, it's not worth doing.
It's awful to fail. I can't stand anything but success.
I must avoid most new things because there's no way I will be good at them immediately, and looking foolish means people will think less of me.
An antidote to this mental cacophony is to deliberately and thoroughly dispute, or challenge, each of these thoughts until you no longer believe them. For a great book on how to work with your beliefs, I recommend Albert Ellis' classic: How to Stubbornly Refuse to Make Yourself Miserable About Anything. Yes, Anything! It is a great introduction to rational emotive behavior therapy, the inspiration for cognitive behavioral therapy.
By allowing a more accepting, gentle, kind approach to all areas of your life and detaching from rigid notions of what is OK, you will feel freer and more relaxed. You might find yourself trying new things with less concern about failing or looking stupid. You may even speak your truth more frequently. This new internal comfort will enable you to be more present with everything you do, and that mindfulness will increase your joy.
© Copyright 2013 GoodTherapy.org. All rights reserved. Permission to publish granted by Nicole S. Urdang, MS, NCC, DHM, Holistic Psychotherapy Topic Expert Contributor
The preceding article was solely written by the author named above. Any views and opinions expressed are not necessarily shared by GoodTherapy.org. Questions or concerns about the preceding article can be directed to the author or posted as a comment below.