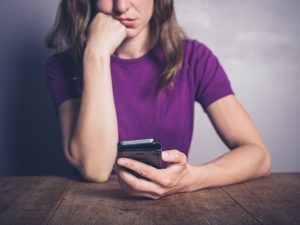 Editor's Note: Andrea Brandt, PhD, MFT is a psychotherapist and speaker and the author of Mindful Anger: A Pathway to Emotional Freedom. Her continuing education presentation for GoodTherapy.org, titled "8 Keys to Eliminating Passive-Aggressiveness" is scheduled for 9 a.m. PDT on May 1, 2015. This event is available at no additional cost to GoodTherapy.org members and is good for two CE credits. For details, or to register, please click here.
Every emotion you feel is a message. Emotions tell you how your environment is affecting you, when your boundaries have been violated, and when your needs aren't being met.
Since anger is unarguably the most shunned emotion in our culture, you may feel an overwhelming urge to suppress it when you feel it stirring inside you. Stuffing your anger would work if your psyche were like a tunnel and feelings could slip harmlessly out the other end. Instead, your psyche is more like an expanding bag, growing bigger and heavier the more you let your emotions go unheard. When you ignore your anger, it can come out in the form of passive-aggressive behavior. The key to combating passive-aggressiveness is mindfulness. Mindfulness will help you embrace the truth of your experiences—including anger.
Mindfulness and Anger Management
The first step to managing your anger is to sit with it long enough to hear what it wants to tell you. To do this, you must turn to your body. Your body contains an abundance of information, and it never lies. By listening carefully to your body, you can build new habits for approaching your feelings. A new response strategy will replace the passive-aggressive pattern that may have dominated your life. And mindfulness is the key.
The goal is to learn how to connect your physical sensations with your feelings so that you may listen to your body.
Mindfulness is a practice in which you intentionally focus on the present: what you see, hear, think, and feel in each moment. By using mindfulness, you can explore your internal self in order to change the passive-aggressive loop that characterizes your life. Because sensations can help put you in touch with your emotions, mindfulness exercises let you experience and address the emotions you feel in your body as they are happening. The goal is to learn how to connect your physical sensations with your feelings so that you may listen to your body.
Listening to your body can help you:
Understand when your boundaries are being crossed so that you can take appropriate action.
Become more conscious of your needs. Once you know what you want, you can ask for it.
Identify painful emotions—understanding them will lighten that bag of suppressed emotion that has been sapping your energy.
Reveal your thoughts and beliefs—recognizing what they are will help you let go of those that aren't contributing to your well-being.
With time and with mindfulness practice, you'll get more and more in touch with the internal information that is available to you, including:
Body sensations and muscle tension
Emotions and moods
Thoughts and beliefs
Memories and mental images
Worries and judgments
Impulses and urges
Present-Moment Awareness: Being True to Yourself
Mindfulness exercises—like observing your body sensations and naming your feelings—will allow you to unlock a rich inner life of impulses, feelings, sensations, thoughts, and beliefs. If you're caught up in passive-aggression, you may feel a strong urge to retreat when you are afraid or upset and the world around you seems unsafe. But even if a situation feels uncomfortable or threatening, the only way to be true to yourself and to inhabit your life is to be fully in the present moment.
There are consequences to suppressing your anger and failing to listen to its message. When you can't manage your anger, you lose your voice—and with it your self-esteem and self-respect. When you use passive-aggression, you're not being honest and without honesty, intimacy can't be achieved. Mindfulness is the road to a more honest and satisfying life; it is the key that can open the jail of passive-aggressiveness.
© Copyright 2015 GoodTherapy.org. All rights reserved. Permission to publish granted by Andrea Brandt, PhD, MFT, Featured GoodTherapy.org Presenter
The preceding article was solely written by the author named above. Any views and opinions expressed are not necessarily shared by GoodTherapy.org. Questions or concerns about the preceding article can be directed to the author or posted as a comment below.