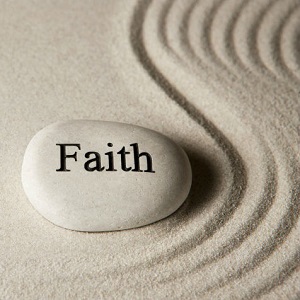 This article is a meditation on the third step of Alcoholics Anonymous (and all other 12-step programs). The third step says: "We made a decision to turn our will and our lives over to the care of God as we understood God." I'd like to talk about what makes turning it over difficult for so many people, regardless of whether or not they are in recovery for addiction.
One answer I give to the people with whom I have the conversation (I offer spiritual psychotherapy as part of my private practice) is that our parents are our first experience with the notion of God (i.e., they seem to us to be omniscient, omnipresent, and omnipotent). We depend upon them for our survival and our safety. We have no choice but to turn ourselves over to their care. When they disappoint us, and in many cases fail us, the experience leaves a mark on our psyches and spirits. Often this mark remains until we work it out in psychotherapy.
Consequently, when faced with the idea of turning ourselves over to God's care (that's what it means to have faith), with the belief that God knows what is best for us (as opposed to us knowing what's best for us), it is at a minimum, difficult, and for some, impossible. We feel we must hold on to our will and exercise control over our lives. Sometimes, we try to control those around us as well. When that fails, which it inevitably does, we rationalize that perhaps we did not exercise enough control, and so, must work harder. The result is that we can become hypervigilant, anxious, and controlling people who keep ourselves detached from others out of fear.
Sometimes it is a crisis that causes us to reevaluate this approach to our lives. We may be faced with a situation that is out of our control. Or, we just get tired of having to maintain such a tight grip. We may realize that it is interfering with our lives, rather than enhancing our lives. We may realize that it is damaging our relationships.
For many people, this is an ideal time to either start psychotherapy or counseling. For others, it is an opportune moment to think about those traumatic, early disappointments. It is an opportunity to see how most of us idealized our parents, how limited those parents may have been, and how we didn't get what we deserved in some cases. It is also a time to grieve those early losses and to learn how to make it up to ourselves, some of those early deficits.
Slowly, as the understanding deepens and the grief lessens, we can give the God of our understanding a chance to be our guide. We can learn about prayer and meditation and, most of all, listening to the universe as it speaks to us. In our quiet, in our letting go, we can have the experience that it is not only us that we can rely on. We can develop the capacity for faith.
Unlike the presentation of such transformations in the latest self-help books out there, I would like to stress that turning it over and developing faith is a very difficult process. It is a process that, for some, may take a lifetime. It is not linear—there will be steps forward and steps back. But ultimately, it will be worth the effort. It's a comforting feeling to know that we are not alone in this world and that there is a power greater than ourselves that can guide us throughout our lives.
© Copyright 2010 by Kalila Borghini, LCSW, therapist in New York City, New York. All Rights Reserved. Permission to publish granted to GoodTherapy.org.
The preceding article was solely written by the author named above. Any views and opinions expressed are not necessarily shared by GoodTherapy.org. Questions or concerns about the preceding article can be directed to the author or posted as a comment below.