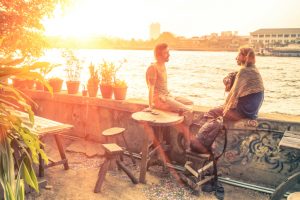 Editor's note: Harville Hendrix, PhD, and Helen LaKelly Hunt, PhD, are the creators of Imago Relationship Theory and Therapy, which they teach in workshops, lectures, training programs, and books. Dr. Hendrix is a couples therapist who also has more than 40 years of experience as an educator, clinical trainer, and lecturer. Dr. Hunt is the sole author of Faith and Feminism and has a place in the Women's Hall of Fame for her leadership in the global women's movement. Their continuing education presentation for GoodTherapy.org, titled "Safe Conversations: From Conflict to Connection," is scheduled for 9 a.m. Pacific on June 17, 2016. This event is available at no additional cost to GoodTherapy.org members and is good for two CE credits. For details, or to register, please click here.
"Safe Conversations" is a new way of talking—based on cutting-edge relational science—that makes it safe for everyone in all human ecosystems to have conversations that transcend difference, transforming conflict into connection. Creating safe environments can enable everyone to thrive in their relationships. The mechanism of relational safety is the quality of conversation that "Safe Conversations" provides.
Both the problem and the potential reside in the fact that everyone talks. That capacity is what makes us human. The quality of the way we talk, not the topics we talk about, can determine the atmosphere of our relationships—whether they are safe or dangerous. If they are safe, we may thrive and experience ourselves as part of a larger whole. If they are dangerous, we may experience anxiety and erect defenses that separate us from the whole. In search of security, we may compete, dominate, and attempt to control and win. We believe this is the stress that gives birth to most of the social problems that plague humanity.
A New Way to Communicate
Without a new way to have conversations, we may have no other choice. Our neurophysiology is wired to receive linguistic and chemical signals from changes in our blood chemistry that activate our primary defense systems, which can be hard to turn off.
A new way to talk is a compelling need because the old way of talking may be the most dangerous thing most of us do. Listening is often the most infrequent. Talking can become dangerous when speakers assume they are speaking the "truth" that applies to everyone. Listening is most infrequent because the listener often has another "truth" being brought into question by the certainty of the speaker. This can trigger the listener's anxiety, activate their defenses, and position them to interrupt the speaker or wait for an opening to replace the speaker's "truth" with their own. The speaker generally responds in a never-ending escalation of conflict at the personal and global level.
In our observations, every conversation is an instance of the universal experience of conflict generated by an objection to whatever does not match someone's experience, memory, or imagination. It is essentially an act of self-preservation. We will go to any extreme to sustain the illusion that "our" world is "the" world. Thus, other points of view about anything: gender, ethnicity, politics, religion, social values, economic systems, philosophical perspectives, sex, children, money, and other topics become subject to deflection, objection, and even annihilation to make the world congruent with our experience and values. To allow otherwise is to risk not only our view of the "truth," but in the process, our way of life and possibly our very existence.
communication
 is serious business in need of a radical overhaul if it is to achieve its potential. For thousands of years, talking has been a one way or parallel monologue. Monological conversation usually has a vertical structure. One person talks while all others listen. The speaker holds the truth and distributes it to everyone else. This can create an implicit or explicit inequality between the speaker and the listener, potentially triggering anxiety and self-protection, thus making conversation dangerous and conflict endemic in the human situation.
"Safe Conversations" is new way of talking. It has a horizontal structure that creates equality between the speaker and the listener, helping people feel safe and equal while encountering difference. Based on cutting-edge new relational science, "Safe Conversations" is a relational technology that enables people to replace judgment with curiosity so they can transcend difference and move from conflict to connection. Because difference is the defining feature of nature, the dialogical structure of "Safe Conversations" engages rather than annihilates difference, shifting the conversation from fear to wonder.
Developing 'Safe Conversations'
The journey to the discovery and development of "Safe Conversations" began in 1977 when we began our research on couples, which led us to create Imago Relationship Therapy. Our answer to the research question: "Why do couples fight?" was published in 1988 in our book Getting the Love You Want: A Guide for Couples. Our first conclusion was that conflict in couples is instigated by mutual failure to meet the childhood needs unconsciously brought to adult intimate relationships.
Upon further analysis of core factors in conflict, the initial answer of need deprivation holds, but it is augmented by a reduction of the source of all conflict to mutual objection to difference. The paradox and irony of this situation is that complementarity (the attraction of opposites) is often a major attractor when partners fall in love, and the tension of difference produces dynamic relationships. Without the tension, the engagement might not occur, nor might the relationship be as exciting. But the differences that attract at the beginning often become the factors that repel as the relationship matures. When couples are experiencing romantic love, difference may be interpreted as cute or its existence denied. But as commitment deepens, each may become more contentious about difference, leading to a power struggle that, since 1950, has produced a 50% divorce rate and high negative engagement or mutual avoidance in relationships that survive.
The quality of the way we talk, not the topics we talk about, can determine the atmosphere of our relationships—whether they are safe or dangerous. The objection to difference that characterizes most conflict in intimate relationships generally includes difficulty agreeing on mundane things. These may include how hot the room is, which way to turn, what time it is, when to go to sleep, or what movie to watch. Some more important issues may include how and when to make love, what really happened in the past, food preferences, where to go on vacation, what school to send the children to, what religion to honor, or what values to uphold.
Without a way to talk that helps couples collaborate, cooperate, and co-create, they may defend themselves by resorting to emotional abuse, child abuse, or divorce. The arousal of anxiety can produce impaired immune system functioning, increased physical symptoms, and emotional disorders. It can also contribute to children's impaired academic functioning, decreased performance of workers in the workplace, and to economic instability, compensatory addictions, escalation of violence, and crime.
With the discovery that objection to difference may be the source of most conflict between partners in intimate partnerships, we turned our attention to conflict in general. We believe the dynamic that drives the tension in the core social unit of family also drives conflict in all ecosystems. This casts "Safe Conversations" as an effective technology that has the ability to transform conflict into connection in all human ecosystems, helping people in all kinds of relationships thrive.

The preceding article was solely written by the author named above. Any views and opinions expressed are not necessarily shared by GoodTherapy.org. Questions or concerns about the preceding article can be directed to the author or posted as a comment below.