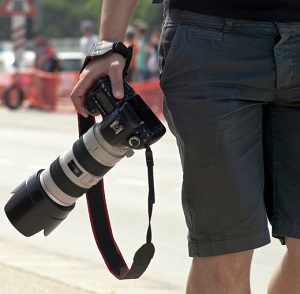 Since 2007, Richard Renaldi, a photographer based in New York City, has been exploring what happens when he pairs carefully selected strangers together for intimate, impromptu photo shoots as part of an ongoing series he calls "Touching Strangers."
To achieve his desired result, Renaldi specifically chooses people of different races, ages, styles, socioeconomic backgrounds, and genders to pose together as if they were lovers, family members, or friends. There are now hundreds of photos in the "Touching Strangers" collection, a selection of which is available for viewing at renaldi.com. And thanks to the more than $80,000 Renaldi managed to raise via a 2013 Kickstarter campaign, he will soon be publishing a photobook of the images—taken primarily in New York, but also in Albuquerque, Chicago, and southern California.
As part of his "On the Road" series, CBS News correspondent Steve Hartman caught up with Renaldi as he captured some of these moments on camera on the streets of NYC.
The video makes it clear that the subjects being filmed felt some initial awkwardness in being told to embrace or stare into the eyes of someone they had just met. After holding these positions for the duration of the photo shoot, however, their feelings of discomfort dissipated and made room for that warm, comforting sensation most people are accustomed to experiencing while being held or touched by a loved one.
One young male poetry teacher who participated and was asked to pose with a 95-year-old retired female fashion designer was a bit skeptical at first. But once the shoot was complete, his position had changed. "I felt like I cared for her … like I broke down a lot of barriers," he said.
This shouldn't come as too much of a surprise, considering that the simple act of touching someone's shoulder has been shown to alleviate fear and anxiety, particularly over existential concerns in life, and hugging is known to trigger the production of oxytocin, the hormone associated with bonding, feeling secure, increasing trust, and lowering cortisol levels, thereby reducing overall stress. Holding hands has also been shown to reduce the body's stress response and anxiety levels (Dworkin-McDaniel, 2011).
This falls right in line with Renaldi's observations through working with his subjects. As he told CBS News, "Everyone seems to have come away with a good feeling…. It's lovely."
References:
Dworkin-McDaniel, N. (2011, January 5). Touching makes you healthier. CNN.com. Retrieved from http://www.cnn.com/2011/HEALTH/01/05/touching.makes.you.healthier.health/index.html
Hartman, S. (2013, August 11). Richard Renaldi's 'Touching Strangers.' CBS News "On the Road." Retrieved from http://www.cbsnews.com/videos/richard-renaldis-touching-strangers/
© Copyright 2014 GoodTherapy.org. All rights reserved.
The preceding article was solely written by the author named above. Any views and opinions expressed are not necessarily shared by GoodTherapy.org. Questions or concerns about the preceding article can be directed to the author or posted as a comment below.