At GoodTherapy, we believe your mental health always matters. Every day, we are honored to connect people seeking care with licensed professionals who can help.
For the month of May, GoodTherapy will participate in Mental Health Awareness Month, which has taken place each May since 1949. We join with thousands of others in recognizing the importance of mental health, sharing wellness resources and information, and combating mental health stigma.
According to Mental Health America, this year's Mental Health Awareness Month theme is Tools 2 Thrive. The goal is to "provide practical tools that everyone can use to improve their mental health and increase resiliency regardless of the situations they are dealing with."
Below are some of the tools and resources GoodTherapy has to help promote mental health awareness.
Resources for Getting Help
Taking the first step to reach out for help can be hard. We are here to assist you. You can search anonymously for therapists near you or counselors in your state who offer telehealth, here.
These articles offer insight on seeking help:
If you are experiencing a mental health crisis, don't wait to seek help! There are mental health crisis resources available 24/7.
COVID-19 and Your Mental Health
Many people are facing more mental health stressors and challenges than ever before due to the current COVID-19 pandemic, from sickness, to grief, to unemployment and financial difficulties, and stay-at-home orders that disrupt normal life.
GoodTherapy's community of therapists weighs in with information about staying mentally and emotionally healthy during the pandemic:
Coping with Mental Health Conditions
Mental health challenges are extremely common–nearly 1 out of every 5 adults in the United States will experience a mental health condition each year. Learn more about mental health diagnoses here or read some of our popular articles:
Resources for Mental Health Professionals
Are you a mental health professional providing treatment and care? Mental Health Awareness Month is a time to celebrate the important work you do. Here are some ideas for how therapists can participate:
Telehealth Resources
To continue safely serving clients during the COVID-19 pandemic, many therapists are transitioning to or expanding their use of telehealth. GoodTherapy can help you navigate this transition.
All Annual GoodTherapy Memberships now include free access to a HIPAA-compliant telehealth solution powered by iSalus, AnywhereCare. You can register for a GoodTherapy Membership, here.
Learn more about providing effective, safe telehealth:
Online Continuing Education
GoodTherapy has over 600 hours of recorded homestudy continuing education (CE) videos available with downloadable CE certificates for clinicians. You can also register today to attend any of these upcoming live, 2-hour CE webinars:
Compassion Fatigue Resources for Therapists
Providing compassionate, effective treatment to others can sometimes have hidden costs for the professionals who do this important work. It is extremely important for therapists to take care of themselves, too. Here are some resources for practicing self-care and preventing burnout:
Help Spread Awareness
This May, we hope you will prioritize your own mental health and join us in sharing mental health resources with others online. To join the conversation on social media during Mental Health Awareness Month, use hashtags #MHAM and #Tools2Thrive.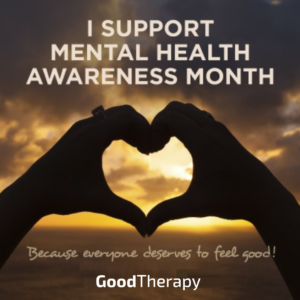 References:
May is mental health month 2020: Tools 2 Thrive. Mental Health American. Retrieved from https://www.mhanational.org/mental-health-month
Mental health by the numbers. (n.d.). National Alliance on Mental Illness (NAMI). Retrieved from https://www.nami.org/learn-more/mental-health-by-the-numbers