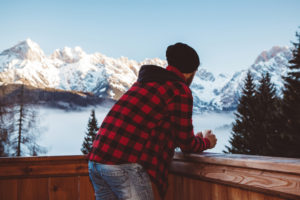 Holidays can bring a ton of stress. Maybe you're feeling pressured by the thought of family visiting, of all the cooking and shopping, or expectations for the "perfect" holiday. Or maybe holidays were really difficult when you were growing up, so celebrating isn't comfortable. No matter your experience, holidays and stress go hand-in-hand!
The pressure can begin months before. I'm not a person who gets my shopping done a year in advance. I usually wait until after Thanksgiving to start planning for the next holiday. But retail shops, radio, television, and social media scream, "CHRISTMAS IS COMING!" earlier every year. Regardless of whether you celebrate Christmas, it's in your face from at least October through the end of December, like it or not.
That sense of urgency, the notion time is slipping away and you had better get things done, can create feelings of anxiety, frustration, and overwhelm. If you don't celebrate Christmas, the constant reminders can create feelings of invisibility and irritation. If your memories of past holidays cause you pain, you might feel depressed and anxious this time of year.
Mindfulness Can Help
No matter your religion, which holidays you choose to celebrate, or your memories of holidays past, practicing mindfulness can help ease some of the difficult feelings around the season. Here are a few mindful tips to help you through:
If we listen to and tend to what we need, if we take care of our gardens first, we're better able to help others with theirs because we're healthy enough and strong enough to do it.
Take time to pause. Notice your body's reaction when you feel the stress. Maybe your neck, chest, or shoulders tense up. Maybe your breath gets short and fast. Maybe you get a headache. Notice whatever signals your body is sending you to tell you stress is building and take minute or two to breathe slowly and deeply a few times. Your slow, deep breaths will activate the part of your nervous system that naturally calms you down.
Notice the sights, sounds, smells, tastes, and touches. Becoming more aware of your senses can take you from worrying about what's in the past or what's next to being with what's happening right now. When we're more aware of the here-and-now, we tune into the colors we see, the feel of the ground under our feet, the smells outdoors and indoors, the taste of our food and drinks, and the sound of the breeze or music playing. Bringing attention to your senses can also give you time to grow feelings of gratitude and nurture feelings of goodwill. We might feel amazed by Mother Nature, grateful for the quiet times, or appreciative of the people in our lives who bring us joy.
Check in with you. What do you need? The message around many holidays is give. Whether we're giving thanks, presents, or prayers, the focus is on others. It's important to take time throughout your day and tune into what you need. In my experience as an anxiety therapist, this is one of the most difficult tasks for people. Honoring what we need can feel selfish and uncomfortable. It can go against the cultural and social values of putting others first. But if we ignore our own needs, it's hard to give fully to others.
When sharing the importance of self-care with people in therapy, I often use the metaphor of tending to our garden. I ask them to imagine that each of us is in a garden with a sturdy fence surrounding it. Then I ask them to tell me what happens to their garden if they're always in other people's gardens, tending and caring for them. The answer is usually that their garden becomes overgrown and choked with weeds, and all of the healthy plants are wilting or dying because they're not getting enough sun, water, and nutrients.
So, let's bring it back to self-care. If we listen to and tend to what we need, if we take care of our gardens first, we're better able to help others with theirs because we're healthy enough and strong enough to do it.
I hope these tips help you reduce your stress during the holiday season!
Reference:
Brown, R. P., & Gerbarg, P. L. (2005). Sudarshan Kriya yogic breathing in the treatment of stress, anxiety, and depression: Part I—neurophysiologic model. The Journal of Alternative and Complementary Medicine, 11(1): 189-201. Retrieved from https://doi.org/10.1089/acm.2005.11.189

The preceding article was solely written by the author named above. Any views and opinions expressed are not necessarily shared by GoodTherapy.org. Questions or concerns about the preceding article can be directed to the author or posted as a comment below.