Yesterday, news broke that Miami police had shot Charles Kinsey, an unarmed mental health worker tending to a man with autism. Kinsey says he had his hands up at the time of the shooting, and video supports this claim. Kinsey survived, and Miami police have provided no information about why they shot him. The story is just one amid a string of violent encounters that have recently made headlines.
News reports on violence—including stories about mass shootings, police brutality, and terrorism, among other events—have dominated the news for weeks. Each report is typically followed by explosive Facebook and Twitter postings, arguments about the politics of violence, and a slow creep toward the latest tragedy becoming old news, in a cycle that may already seem predictable to many. Just as the public has adjusted to an act of violence and its aftermath, the next makes its way into the collective consciousness.
So how is this constant influx of violence affecting us? Some experts argue we are becoming desensitized. Research also points to the vicarious trauma some people experience in response to violent news. A 2015 study exposed 189 participants to violent news about terrorism and school shootings. Twenty-two percent of participants were greatly affected by the news. Researchers also found that frequent exposure to violent news actually increased the effects of subsequent violent news, findings that suggest the more violent media a person sees, the more likely it is they will experience vicarious trauma.
Synesthesia is a rare condition that causes people to mix sensory signals in such a way that they might hear the taste of food or taste the sound of words. A new study has, for the first time, documented synesthesia in people who use sign language. Four people out of a total of 50 participants who were deaf, had synesthesia, and/or used sign language were found to have color synesthesia—they associated the same colors with the same sign letters in every instance of a series of tests.
People with schizophrenia sometimes show biomarkers for inflammation, a symptom associated with autoimmune and other immune conditions. A new analysis of the genetics underpinning schizophrenia suggests that, while genes that play a role in immune function may also play a role in schizophrenia, the genetic pattern of schizophrenia is different from that associated with autoimmune conditions.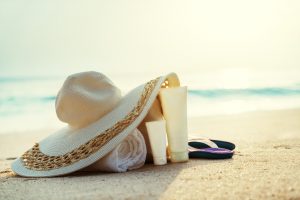 Millions of people continue to sunbathe and use tanning beds, in spite of clearly established risks associated with excess UV exposure. Research on mice suggests that sunbathing might actually be addictive because of its ability to elevate endorphins, chemicals that produce temporary feelings of euphoria and well-being. According to Frances Levin, a psychiatry professor and addiction specialist, there is not yet sufficient evidence to provide diagnostic criteria for an addiction to sunbathing. Levin also highlights the ways a diagnosable addiction differs from poor decision-making.
GoodTherapy.org has covered a number of recent studies highlighting psychology's so-called reproducibility problem. Now, new research aims to explore why peer review is not always reliable. Researchers used a mock art exhibition to test how a competitive review process—which is similar to the review process journals use, since peers reviewing research are often in competition with one another—might affect outcomes. While competition did boost innovation, it also increased the likelihood that reviewers would unfairly review their peers' work.
Police must fill a number of demanding roles—working with troubled children, calming mental health crises, and rapidly assessing dangerous situations. Recent police shootings have shed light on the psychological challenges of policing, which include frequent exposure to traumatic events, chronic stress, and increased fear. Ellen Kirshman, a psychologist who has worked with members of the police force for 30 years, recommends officers seek the support of their peers and communicate feelings of stress and anxiety associated with their work to their friends and families.
Stories about people in the LGBT community often focus on the community's most affluent members, such as Ellen DeGeneres, Caitlyn Jenner, and Apple executive Tim Cook. This focus, however, conceals a crisis of poverty affecting many LGBT people. A new report on LGBT hunger found that 25% of people in the community—1 in 4—were unable to feed themselves or their families at least once during the last year. The figure for non-LGBT people is comparatively lower, at about 17%–1 in 6. Members of the LGBT community face discrimination in employment, may be less likely to be insured, and, until recently, were barred from marriage in many parts of the United States and were thus unable to access the financial benefits marriage often provides.
© Copyright 2016 GoodTherapy.org. All rights reserved.
The preceding article was solely written by the author named above. Any views and opinions expressed are not necessarily shared by GoodTherapy.org. Questions or concerns about the preceding article can be directed to the author or posted as a comment below.