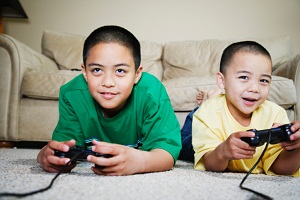 Whenever there's a new technology, there are people there to debate its merits. And while video games are hardly new, they've exploded into the homes of families everywhere over the past decade or so, and many parents spend an inordinate amount of time pleading with their children to do something other than play video games.
There's been much debate about whether violence and sexual images in games are harmful to children, and many parents are concerned about the impact regular gaming has on their children. While the content of video games matters and parents are wise to supervise their children's gaming habits, an increasingly voluminous body of research is revealing some educational and developmental benefits of gaming.
Spatial-Reasoning Skills
Spatial-reasoning skills play a critical role in development and education. Children with good spatial-reasoning skills tend to score higher on IQ tests and often excel at geometry. Spatial reasoning can also improve navigational skills and mental manipulation. Some research indicates that girls are less adept at spatial-reasoning tasks than boys, but spatial-reasoning skills can be learned, and video games are one method that can improve mastery. Video games require players to anticipate movements and, in the case of three-dimensional video games, force players to manipulate objects through a three-dimensional plane. Several recent studies have demonstrated an improvement in spatial-reasoning skills among both children and adults who regularly play video games.
Video Games in Education
Children tend to learn best when what they're learning is relevant to their daily lives, and flashcards and perpetual drilling can make learning a miserable task. But video games offer promise for helping children master everything from basic grammar to complex math. When children enjoy video games, they'll happily play games and may not even notice that they're learning. Educators are increasingly incorporating video games into the classroom.
Collaboration and Social Skills
introverted people
, video games may be a less stressful way to interact socially.
Critical-Thinking Skills
Critical-thinking skills enable children to master concepts rather than simply accept rote memorization. This vital skill is key in many pursuits, including science, math, engineering, and the humanities. Video game players are constantly presented with novel problems, many of which they must solve in a split second. This process improves critical-thinking skills and can teach gamers the value of trying several different solutions to a problem.
Rehabilitation and Specific Skills
Video games are increasingly realistic, and while this raises concerns about violence, it also offers new opportunities for teaching skills. Some schools now use video games to simulate real-life procedures such as surgery or flying a plane. Video games can also be used as a form of rehabilitation. For example, a 13-year-old boy with Erb's palsy noticed marked improvement in control over his arms after playing video games.
References:
Griffiths, M. (2002). The educational benefits of video games [PDF]. Education and Health.
Steinberg, S. (2011, December 26). The benefits of video games. ABC News. Retrieved from http://abcnews.go.com/blogs/technology/2011/12/the-benefits-of-video-games/
Torgovnik, K. (2012, November 19). 7 talks on the benefits of gaming. TED Blog. Retrieved from http://blog.ted.com/2012/11/19/7-talks-on-the-benefits-of-gaming/

The preceding article was solely written by the author named above. Any views and opinions expressed are not necessarily shared by GoodTherapy.org. Questions or concerns about the preceding article can be directed to the author or posted as a comment below.