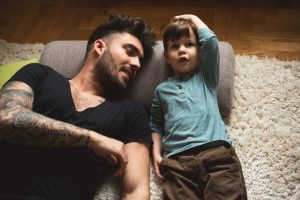 Children raised by parents with depression may experience a range of challenges, including delays in social and cognitive development, an increased risk of some mental health conditions, and behavioral issues. Dads may have a role in helping children overcome these difficulties. According to a new study published in the journal Development and Psychopathology, dads can offset some of the effects of maternal depression.
Fathers Can Reduce Effects of Maternal Depression
The study followed married or cohabiting couples in which the mother had chronic depression. Researchers screened each mother for depression in the year following birth and again when the child was 6 years old. They also visited and taped families when the child was in preschool. The visits screened for sensitivity—the ability to respond appropriately to the child's needs. They also screened for intrusiveness, which the study defines as the tendency to disregard the needs of the child or take over tasks the child could perform on their own.
Depressed mothers and their partners were less sensitive and more intrusive. This resulted in children with lower levels of social engagement. The partners of women with depression did not frequently engage with their children, producing a less cohesive and harmonious family. In this regard, maternal depression—and the partner behavior that accompanies it—predicted family problems.
Depression and Women
Depression disproportionately affects women. According to the American Psychological Association (APA), as many as 1 in 7 women experience postpartum depression following the birth of a child. Research suggests more support, including from a partner, can reduce the risk and severity of postpartum depression. For example, a 2013 study found women who lacked social support were five times as likely to develop postpartum depression.
Depression is also common outside of the postpartum period. The study reports 15-18% of mothers in industrialized nations have depression, 30% of mothers in developing nations experience depression.
References:
Kim, T. H., Connolly, J. A., & Tamim, H. (2014). The effect of social support around pregnancy on postpartum depression among Canadian teen mothers and adult mothers in the maternity experiences survey. BMC Pregnancy and Childbirth, 14(1). doi:10.1186/1471-2393-14-162
Paul, M. (2013, March 13). Surprising rate of women have depression after childbirth. Retrieved from https://news.northwestern.edu/stories/2013/03/surprising-rate-of-women-have-depression-after-childbirth
Positive father-child relationship can moderate negative effects of maternal depression. (2017, May 11). Retrieved from https://www.eurekalert.org/pub_releases/2017-05/bu-pfr051117.php
What is postpartum depression and anxiety? (n.d.). Retrieved from http://www.apa.org/pi/women/resources/reports/postpartum-depression.aspx
© Copyright 2017 GoodTherapy.org. All rights reserved.
The preceding article was solely written by the author named above. Any views and opinions expressed are not necessarily shared by GoodTherapy.org. Questions or concerns about the preceding article can be directed to the author or posted as a comment below.