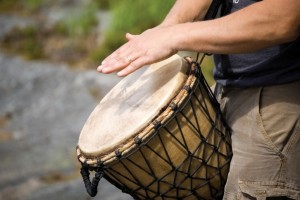 Though music is growing increasingly global as musicians extend their reach to far-flung regions of the world, there's no denying that music is still somewhat culturally specific. The djembes of West Africa, for instance, are unlikely to top American music charts anytime soon, and the music of Eminem, Taylor Swift, and Rihanna might seem completely out of place where djembes are a favorite source of music. According to a small study, though, music may affect people from different cultures in strikingly similar ways, even when the music is unfamiliar.
The Cross-Cultural Effects of Music
Mbenzele Pygmies living in the rainforest of the Congo have no access to television, radio, or even electricity, which means they're unlikely to have any familiarity with popular Western tunes. To evaluate how they might react to this music, researchers played 19 clips of music to 40 Mbenzele Pygmies. Researchers asked participants to use emoticons to rate how the music made them feel.
Researchers then performed the same test with 40 musicians in Montreal. Because Mbenzele Pygmies regularly engage in ceremonial singing, the researchers argue that their experience with music is similar to that of the musicians involved in the study.
Unsurprisingly, researchers found that the groups reacted differently to several pieces of music, and what made one group feel bad might make another group feel good. However, both groups rated the music similarly in terms of its ability to excite or calm the listener. This, the study's authors argue, suggests that people may react to tempo, pitch, and timbre in similar ways regardless of cultural norms. Cultural differences, including differences in the ways the two groups use music, may help explain why the groups disagreed on which music was negative and which was positive.
Lisa Danylchuk, MEd, LMFT, E-RYT, a GoodTherapy.org Topic Expert contributor, said Western cultures often fail to recognize the healing power of music.
"We resonate with the lyrics and tunes, and relate our own internal worlds to the stories we hear in song," Danylchuk said. "The rhythm and melodies of music can both energize and soothe, while lyrics can help us to make sense of our challenges, hopes, and aspirations. Music also inspires organic movement. Since much of our psychological stress has a physical counterpart, allowing the body to move and express organically is another window into a healing experience."
References:
Preidt, R. (2014, January 16). Music resonates across cultures, study suggests. Retrieved from http://health.usnews.com/health-news/articles/2015/01/16/music-resonates-across-cultures-study-suggests

The preceding article was solely written by the author named above. Any views and opinions expressed are not necessarily shared by GoodTherapy.org. Questions or concerns about the preceding article can be directed to the author or posted as a comment below.