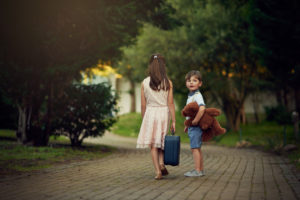 Children whose divorced or separated parents share physical custody are less likely to feel stressed than children who live with just one parent, according to a study published in the Journal of Divorce & Remarriage.
Parents may worry that moving back and forth between homes will be stressful to children, or that being separated from one parent while visiting another will be traumatic. But previous research has found long separations from one parent are likely to cause anxiety.
Other studies have found shared custody may also be better for parents. A 2014 Dutch study found both parents are more likely to be happy in joint custody arrangements.
Is Shared Custody Better for Kids?
The study gathered data on 807 children in Sweden, where shared physical custody is most prevalent. Researchers combined data from the 2001-2003 Surveys of Living Conditions with registry data. Children answered questions about their experiences of stress and how well they got along with each parent. Parents answered questions about how well they got along with their former partner.
relationship
with each other or when children had a poor relationship with both parents, children in shared custody situations generally experienced less stress.
Effects of Shared Custody Arrangements
Jani Turunen, the study's author and a researcher in demography at Stockholm University, says the study points to the importance of a relationship with both parents. While the study did not directly assess why children in shared custody arrangements are less stressed, previous research has found children benefit from regular contact with both parents.
Contrary to what some parents might fear, transitioning back and forth between houses does not automatically create instability. Instead, it can preserve multiple social support systems and protect the child's relationship with both parents.
According to a 2014 study of Wisconsin court records, shared custody is still relatively uncommon in the United States, but it is becoming more prevalent. Between 1986 and 2008, equal shared custody arrangements increased from 5% to 27% of post-divorce parenting arrangements.
References:
Franklin, R. (2016, January 31). Dutch/Danish study: Both parents happier with shared parenting. Retrieved from https://nationalparentsorganization.org/blog/22775-dutch-danish-study-both-parents-happier-with-shared-parenting
Shared custody equals less stress for children. (2017, August 30). Retrieved from https://www.eurekalert.org/pub_releases/2017-08/su-sce082917.php
Shared custody is becoming the norm. (2014, May 21). Retrieved from http://www.springer.com/about+springer/media/springer+select?SGWID=0-11001-6-1465556-0
Turunen, J. (2017). Shared physical custody and children's experience of stress. Journal of Divorce & Remarriage, 58(5), 371-392. doi:10.1080/10502556.2017.1325648

The preceding article was solely written by the author named above. Any views and opinions expressed are not necessarily shared by GoodTherapy.org. Questions or concerns about the preceding article can be directed to the author or posted as a comment below.