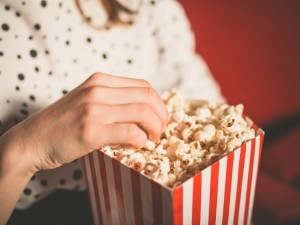 People may undermine their own dietary goals by overeating foods labeled "healthy," according to a study published in the Journal of the Association for Consumer Research. The study's authors suggest people may subconsciously believe "healthy" foods are less filling.
Overeating When Food is 'Healthy'
The study, led by Jacob Suher, a doctoral student at the University of Texas at Austin's McCombs School of Business, occurred in three phases. First, investigators asked 50 college students to label healthy and unhealthy foods as either "filling" or "not filling." They found the students were more likely to label unhealthy items as filling.
Next, researchers tracked the hunger of 40 graduate students who ate a cookie. Though all of the cookies were the same, some were labeled as "healthy," and others were labeled as "unhealthy." The students who thought they had consumed a healthy cookie reported more hunger 45 minutes later than students who consumed the "unhealthy" cookie.
In the final stage, researchers gave 70 college students popcorn labeled either as "unhealthy," "healthy," or "nourishing." Researchers told students to eat as much popcorn—ranging from 1 to 10 cups—as they thought they would need to not be hungry before their next meal. Students who thought they were eating healthy popcorn ordered more. Those who thought they received the "nourishing" popcorn ate more than those in the "unhealthy" group, but less than those in the "healthy" group.
Students also completed questionnaires about their attitudes toward food. Even those who disagreed that healthy foods are less filling chose to eat more of the popcorn labeled "healthy."
Why Does 'Healthy' Food Seem Less Filling?
unconscious
beliefs about foods may influence food choices, even among people who want to make healthy choices. Some unhealthy foods are often served in large portions, such as a large platter of pizza or cheesy pasta at a restaurant. This can encourage people to think of unhealthy items as filling. Suher believes this way of thinking may be contributing to the
obesity
epidemic.
To change the way people think about food, Suher suggests a switch to viewing healthy foods as "nourishing," because students were less likely to consume these foods in excess.
Reference:
People may eat more of a food that's labeled 'healthy' (2016, January 5). Retrieved from https://www.nlm.nih.gov/medlineplus/news/fullstory_156507.html

The preceding article was solely written by the author named above. Any views and opinions expressed are not necessarily shared by GoodTherapy.org. Questions or concerns about the preceding article can be directed to the author or posted as a comment below.