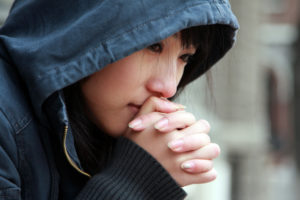 Researchers have identified a gene that plays a key role in depression. The gene, dubbed Slc6a15, appears to mediate the way mice respond to stress based on its activity level, according to a study published in The Journal of Neuroscience. Research in mice often produces similar results in humans.
Understanding Another Genetic Risk Factor for Depression
Previous research has found Slc6a15 plays a role in vulnerability to depression. The study's authors previously determined the gene was more common in D2 neurons, which play a role in depression through their response to the neurotransmitter dopamine. These neurons are located in the nucleus accumbens, a brain region known for the reward circuit.
To assess the effect the gene might have on depression, researchers exposed mice to larger and more aggressive mice. This form of social stress can trigger chronic social defeat stress, which resembles depression. Mice experiencing this form of stress showed reductions in Slc6a15 genes in D2 neurons.
Additionally, mice whose Slc6a15 levels had been artificially reduced showed signs of depression when stressed. When investigators increased Slc6a15 levels, the mice were more resilient to stress.
suicide
and had a history of depression. They had lower levels of Slc6a15 in the nucleus accumbens. This suggests the results seen in mice might also occur in humans.
Depression: Numerous Causes Interact with One Another
It is unclear how or why the gene might increase the risk of depression. The study's authors speculate that it could alter neurotransmitter responses to stress.
The study's authors do not argue that their research points to a singular cause of depression or that all cases of depression are the result of a single gene. Most research suggests depression is the result of a complex interaction of risk factors, including genetics, family history, stress, trauma, and health. People with multiple risk factors are more vulnerable to depression, particularly during times of stress.
According to the World Health Organization, more than 300 million people worldwide have depression. It is the world's leading cause of disability.
References:
Chandra, R., Francis, T. C., Nam, H., Riggs, L. M., Engeln, M., Rudzinskas, S., . . . Lobo, M. K. (2017). Reduced Slc6a15 in nucleus accumbens D2-neurons underlies stress susceptibility. The Journal of Neuroscience, 37(27), 6527-6538. doi:10.1523/jneurosci.3250-16.2017
Depression fact sheet. (2017, February). World Health Organization. Retrieved from http://www.who.int/mediacentre/factsheets/fs369/en/
Gene that could play key role in depression identified. (2017, July 6). Retrieved from https://www.sciencedaily.com/releases/2017/07/170706114559.htm
What causes depression? (n.d.). Retrieved from http://www.health.harvard.edu/mind-and-mood/what-causes-depression

The preceding article was solely written by the author named above. Any views and opinions expressed are not necessarily shared by GoodTherapy.org. Questions or concerns about the preceding article can be directed to the author or posted as a comment below.