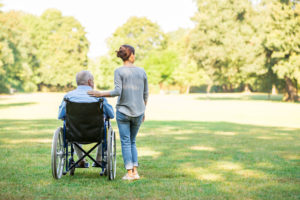 39.8 million Americans (16.6%) provide unpaid care to a loved one, according to a 2015 report from the American Association of Retired Persons (AARP). Caregiving is known to be emotionally, physically, and financially taxing work, and it can lead to depression, anxiety, and family conflict.
One 2017 study found, for example, that when caregivers are stressed, care recipients are more likely to end up in the emergency room. Caregiver sadness and fatigue also increased Medicare costs.
Results from the latest National Poll on Healthy Aging survey show that 78% of unpaid family caregivers find their work stressful. The survey, a project of the University of Michigan, asked people who cared for family members with dementia about their experiences providing care.
Caregiver Health: How Caregiving Challenges and Reward Caregivers
The survey gathered data on a nationally representative poll of 2,131 caregivers for a person with dementia. To gather more information about the effects of caregiving, researchers looked at 148 survey participants between 50 and 80 years old who provide care to a loved one. Most caregivers were women under 65 providing care to a parent.
Although 85% of caregivers said caregiving was rewarding, caregivers also reported they often struggled to meet their obligations. Sixty-six percent said caregiving undermined their ability to care for themselves or participate in their daily activities. The amount of stress associated with caregiving affected the extent to which caregivers said caregiving was rewarding. Forty percent of those who called caregiving "very stressful" said it was not rewarding.
Twenty-seven percent of caregivers reported neglecting their own health. Just 1 in 4 said they had used caregiver resources, though 41% expressed interest in such support. This suggests a significant gap between the needs of caregivers and their ability to access supportive resources.
Some caregivers were concerned due to feeling as if they were unable to provide adequate care, and 14% expressed concerns about their ability to provide care due to mental or physical health issues.
Reference: 
November 2017 Report: Dementia caregivers – Juggling, delaying, and looking forward. (2017, October 24). National Poll on Healthy Aging. Retrieved from http://www.healthyagingpoll.org/report/november-2017-report-dementia-caregivers-juggling-delaying-and-looking-forward
© Copyright 2017 GoodTherapy.org. All rights reserved.
The preceding article was solely written by the author named above. Any views and opinions expressed are not necessarily shared by GoodTherapy.org. Questions or concerns about the preceding article can be directed to the author or posted as a comment below.