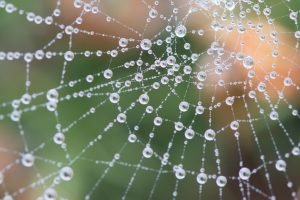 If you've ever accidentally walked face-first through a spider's web, you know the feeling of surprise and disgust of having a thin, sticky substance cover your face. I happen to love spiders, but the unanticipated face-covering encounter is definitely something I can do without.
One thing that fascinates me about a spider's web is the juxtaposition of its seemingly fragile strands and its true strength. What we perceive as delicate and weak is in fact quite strong.
In fact, weight for weight, thickness for thickness, spider silk is stronger than steel. Surprising, isn't it? I never would have imagined that something that appears so weak is so incredibly strong.
If you've ever experienced depression, you have probably felt fragile, as if one more problem or struggle could destroy you. It can feel hopeless.
The feelings of sadness and emptiness can be overwhelming. It can feel like you don't have the strength to manage the day or even the next minute. How will you get through? How can you possibly survive?
Again, I am reminded of the hidden strength of a spider's web. It is so thin, yet so strong. It doesn't look powerful. It doesn't look secure or significant, but it is. Spider silk's composition has a strength few can comprehend.
You have a strength within you as well.
You may not see yourself as strong or powerful. You may feel fragile, insignificant, and alone. Sadly, many people suffer silently because they worry they will be a burden to others. They're hesitant to look for help because reaching out not only takes precious energy, it sometimes seems futile.
One of my jobs as a therapist is to empower you and remind you of what lies within. We don't need to reinvent the wheel here; we simply need to find it and repair it. You have an inner strength that has never left. It may be buried, it may be silent, and it may be invisible, but it is there. I promise.
Every one of us has times where we feel like those broken webs. And as tiring as it may seem to step out of our exhausted and depressed selves, we are capable of rebuilding ourselves, time and time again.
So when you walk into my office, call me, or even read this article, remember: where you see fear, I see a survivor. Where you see hopelessness, I see a person who is reaching out for help. Where you see pain, guilt, shame, or desperation, there is light and love and hope and so much strength. It IS within you.
As a therapist, I do not heal; rather, I guide. I don't change you, but I will help you see and identify the strengths that are already there.
Spiderwebs can and do break, but they are repairable—and spiders constantly are working to make them whole again.
Every one of us has times where we feel like those broken webs. And as tiring as it may seem to step out of our exhausted and depressed selves, we are capable of rebuilding ourselves, time and time again.
It's not always easy, and some days are harder than others. But unlike spiders, who alone are responsible for maintaining their webs, we have community. We have others around us to build us up and work alongside us, helping us when we can't help ourselves. You are not alone. This is what community, both online and in real life, is for.
Spiderwebs are not always invisible. In the morning's dew, water droplets form and make an invisible web visible.
Look for and find your strength, your hope, and your determination. When you do see them, embrace them. Where you see a single fragile strand, there is the strength of steel.
If you need help finding the strength within, seek the support of a compassionate therapist.
Reference:
UCSB ScienceLine. (2015). What is the spider silk made of and how can it be so strong to hold a spider? Retrieved from http://scienceline.ucsb.edu/getkey.php?key=3239
© Copyright 2016 GoodTherapy.org. All rights reserved. Permission to publish granted by Jenise Harmon, LISW-S, GoodTherapy.org Topic Expert Contributor
The preceding article was solely written by the author named above. Any views and opinions expressed are not necessarily shared by GoodTherapy.org. Questions or concerns about the preceding article can be directed to the author or posted as a comment below.