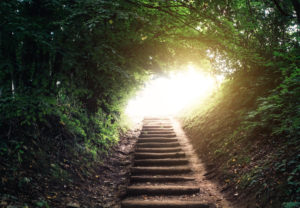 Three years ago my life changed overnight when I suddenly and very unexpectedly lost my best friend Diana. I can't begin to describe the shock I experienced, or the depth of pain and loss I felt.
I had made the decision to move home two weeks before this happened. The man I was dating at the time and I were in a long-distance relationship, and we had made the decision to move to Seattle together so we could continue to date seriously. However, I quickly learned that I felt estranged and completely isolated, almost like an alien living in a new world. My world wasn't new, but it was no longer familiar to me. I would be surrounded by people having discussions about movies, their families, their hobbies, or their jobs, all conversations I would normally participate in, but all I could think about was the loss of my friend. My thoughts cycled: "Why did this happen? What plan does God have for me? Why did I have to lose her?"
My symptoms first started manifesting themselves physically, and painfully. I would experience intense nightmares, night terrors, and panic attacks. I couldn't control my emotions and was hypersensitive to everyone and everything. Sometimes I felt such pain, I thought my chest might literally split in two. I couldn't go on like this.
Working to Heal
When I couldn't bear it any longer, I finally committed myself to going to counseling. For two years I visited the same counselor faithfully, keeping my appointment every week. It was in counseling I first learned about the power of self-care.
For me, self-care included better eating habits and exercise: I started eating more nutritiously and doing kickboxing every day. I lost 30 pounds, and I started to feel better. Little by little the pain subsided, until I was finally able to tune back in to my life. I felt happy, content, and peaceful and regained confidence in myself and in my life. When I thought of the future, I felt nothing but optimism for what might come. I felt like I was finally getting my life together after the challenges and pain I had experienced and the hard work I had done to overcome them.
But the worst part was yet to come.
New Setbacks
When I was feeling at my best again, I began another romantic relationship with a friend I knew through a mutual friend in Utah, where I had lived before moving home to Seattle. As I'd long had feelings for this person, I was more than thrilled to be dating him. Things progressed, and eventually we became engaged. I was looking forward to our future, but then things started to unravel.
Although I had never been married, my fiance had, and he was now divorced. As members of the LDS Church (The Church of Jesus Christ of Latter-Day Saints), we had to go through a process called a sealing clearance, since he was remarrying. I didn't know this process even existed until we tried to book the temple for our marriage, but it was standard procedure for remarriages.
A sealing clearance means the previous spouse writes a letter to the couple's ecclesiastical leader, disclosing any information that might have been undisclosed or hidden, such as addiction or abuse, and the church leaders review the letter and then either accept or deny the application to be sealed in the temple (married).
Our application was denied and then postponed for three months past our original wedding date. While I didn't mind waiting, I felt a great deal of uncertainty and fear. Why had it been denied? Finally I summoned my courage and was brave enough to ask to meet with my bishop.
The bishop was very concerned when we met, and we counseled for two hours. I won't disclose what he shared with me—no future bride wanted to hear the things I heard from him or experience what I felt upon hearing his words. But I had always looked up to the bishop and respected and trusted his perspective and wisdom. So, although I was heartbroken and confused, I decided to follow his counsel: I gave the ring my fiance had given me back.
Even though I gave him back the ring, I truly didn't expect that would be the end of things. I thought, since we were partners who truly cared for each other, he would take the chance to work on himself and make changes so we could be married in the future. But he didn't. He simply left, saying "Rose, I always saw us as better friends than partners, anyway." The pain I felt that day eclipsed what I felt the day I lost Diana. I already knew how long and difficult the grieving process was, and so I knew the road ahead of me would not be easy. I accepted that pain, but I couldn't  prepare myself fully for what would happen.
Three weeks after we ended things, my fiance started dating someone else, a young woman I had actually confronted him about while we had been engaged. On occasion we would play games together at a friend's house, and I saw their interactions and felt in my gut that their behavior toward each other was inappropriate. I asked him about her twice, but both times he denied having any feelings for her. Yet three months later, they were engaged, and their sealing clearance wasn't denied. Now they are expecting their first child.
This is my reality, but I do know today was slightly better than yesterday. Tomorrow might be better than today, and so on.
When I heard, I felt rage in a way I had not previously known existed. I felt robbed and completely betrayed—by him, by her, by God, by the whole world. Every time I got myself to a better place, I was knocked back down.
Hope amid Lingering Doubts
My road has been a long and very difficult one. Some days I still can't understand how something like this could have happened. I was a good person. I had always been faithful. I always did my best, and I cared about people. Why wasn't that enough for God? Why wasn't that enough for my fiance? But it has become easier to accept with time. The pain does subside, and now I have more clarity.
After the breaking of my engagement, I decided to start a business. I wanted to help people who were suffering just like I was. That business, however, combined with a precarious financial situation my fiance left me in, put me into an additional $30,000 of debt, which led me to feel even greater shame.
So here I am, a year and a half later, still digging myself out of a financial, emotional, and spiritual hole that seems to have no bottom. I'm still paying off debt and living the repercussions of a decision that, despite being so flippantly made by him, has impacted me profoundly.
It takes strength and energy every day to combat the negative thoughts that relentlessly attack me. "You're unlovable." "Everyone you love leaves." "Everything you try fails." "God has it against you." "You'll never be successful." "Nothing you do matters." "You're 30, and look what you have to show for your life."
And so it goes, on and on. Some days it's hard to practice self-care, to face the challenges ahead. Whatever future I have feels tainted by a long-cast shadow of past disappointments and sorrow. In ways I've become more understanding, empathetic, and compassionate, but in other ways I've become jaded and untrusting. I still feel heartbroken, and I don't know if I'll ever be the happy, bubbly version of myself I once was, a woman who exuded optimism and opportunistic dreaming. I don't know if I'll be able to experience a day that isn't colored by the consuming doubt in my mind.
This is my reality, but I do know today was slightly better than yesterday. Tomorrow might be better than today, and so on. I know I am still worthy of love, of the future I desire. I have hope that if I can rebuild my faith—my faith in myself, in God, in others—things will be bright once again.
Rose, a graphic designer currently working for Amazon in Seattle, WA, graduated from BYU Idaho with a degree in integrated studio art. She founded a bath and body company called SugarDunk and plays piano, reads, and believes in self-care.
© Copyright 2017 GoodTherapy.org. All rights reserved.
The preceding article was solely written by the author named above. Any views and opinions expressed are not necessarily shared by GoodTherapy.org. Questions or concerns about the preceding article can be directed to the author or posted as a comment below.