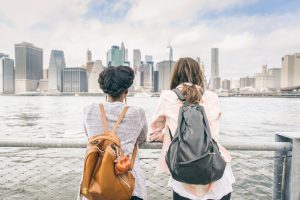 Status, also referred to as rank, can be defined as increased personal power that is culturally conferred and, in many cases, culturally variable. This power is typically unearned—when conferred through birth, gender, or sexual orientation, for example—or partly earned—when conferred through education and wealth, for example.
In America, those who are male, white, rich, able-bodied, American citizens, Christian, well-educated, heterosexual, and cisgender (identify with the gender corresponding to birth sex) generally enjoy greater status power than those who are poor, non-white, non-citizens, Muslim, LGBTQ+, female, or who are challenged by a mental or physical impairment. The more of the higher status categories a person belongs to, the more status power they are likely to have. A person who lacks power in one area may hold power in others: for example, in America, more status power may be experienced by a white well-educated Christian individual than a non-white Muslim individual who has received the same level of education.
Diversity and status have a complex relationship that is often impacted by geography and cultural context. Status power is frequently used to justify hatred, violence, oppression, and discrimination, and people holding a lower status may be persistently disrespected, maligned, shamed, exploited, and physically and/or emotionally harmed. Deeply-rooted hateful and violent discrimination is associated with some lower class categories—non-white, LGBTQ+, and Muslim, to name a few. In American society, where the gaps between rich and poor, white and non-white, highly educated and non-degreed are growing, white privilege, and its effects, is a factor that needs major and massive corrective attention.
Recognizing and Understanding Privilege
Addressing racism, or discrimination simply by virtue of racial background, is an issue of power and status that is beyond the scope of this article. Although racism does have a status component, to understand it as simply a status issue is insulting and demeaning. Racism is social and systemic injustice writ large, and the few paragraphs here can serve only to shine a tiny light in this very large room. I write these paragraphs, though, for those of you who, like me, are steeped in the privileges of being white and highly educated.
Changing systems of oppression and violence begins with recognizing and understanding these systems. American democracy was written by white European men, and America's wealth was built on black slave labor. This foundation of white men holding power and slaves, Native Americans, and women lacking power, meant, in fact, that the words, "with liberty and justice for all," initially meant "all white men." Privilege itself is based on the inheritance of wealth, education, empowerment, land ownership and real estate that precedes our present social circumstances. What is called white privilege, and now refers to both white men and white women, is the systemic result.
The negative impacts of white privilege are beginning to be taught in many public education systems, as early as elementary school. Kyle Spencer says, "Today 'white privilege' studies center on the systemic nature of racism as well as the way it exposes minorities to daily moments of stress and unpleasantness—sometimes referred to as 'microaggressions.'" He goes on to further point out that freedom from worrying about these microaggressions is a privilege unique to white people, one that many are not even aware of. These studies, which many believe to be an essential part of today's education curriculum, help white students "step out of a dream," so to speak, and realize non-white people and others with lower status, as defined by the categories they fall into, are living in a world that is far more dangerous and challenging than a white person may be able to comprehend.
Personally, when I teach, I am well aware that I am wearing a "scarf" symbolic of my add-on role power. This scarf is visible to me. I also wear other symbolic, status-conferring scarves that are visible to those of lower status but carry privileges invisible to me: white status, elder status, educated status, American status, able-bodied status, and so on. The unearned privileges I have taken for granted are sobering, when I consider them.
In 1989, Peggy McIntosh identified some of the daily effects of white privilege in her life. She noted 26 advantages that I, and many other white people, take for granted and may not even stop to think about but for non-white people are real, considered concerns that pervade daily life.
"I can turn on the television or open to the front page of the paper and see people of my race widely represented."
"When I am told about our national heritage or about 'civilization,' I am shown that people of my color made it what it is."
"I can arrange to protect my children most of the time from people who might not like them."
"I can be sure that if I need legal or medical help, my race will not work against me."
"I can criticize our government and talk about how much I fear its policies and behavior without being seen as a cultural outsider."
Our educational system teaches us in democratic America "all are created equal and have equal access to life, liberty and the pursuit of happiness." Yet our history books give scant attention to the injustice, violence, and harm white people and white laws have caused Native Americans, black Americans, and Asian Americans (to name the groups who have borne the greatest abuses of power).
White-privileged people assume equal access, and many take their privilege for granted as social opportunities and treatment that everyone else also experiences. People who do not enjoy white privilege often do not experience the same equality and justice.
White-privileged people assume equal access, and many take their privilege for granted as social opportunities and treatment that everyone else also experiences. People who do not enjoy white privilege often do not experience the same equality and justice.
Responding to accusations of racism with problematic statements like "I don't see color," or "I'm not racist" interferes with a person's ability to see and own their many white privileges. At a deeper level, white people carry an unacknowledged psychological shadow that is emotional rather than social and systemic. It is a cultural heritage dating to the psychological wound of slavery. When in the presence of black Americans, most white Americans respond with fear, a sense of "otherness," and/or shame regarding the treatment of black individuals at the hands of their ancestors—and some of their contemporaries.
Using Status Power to Create Change
How can those who have unearned privileges use their status wisely and compassionately?  What is the right use of status power and influence? Like role power, status power can be used to heal wounds and create more actual equality. By becoming informed—intellectually and emotionally, personally and systemically—about white privilege, racism, and the conscious and unconscious ways we perpetuate both, we can better understand and own our elevated status. as well as the conscious and unconscious harm unearned privilege can cause. and seek to address and end this harm.
To summarize:
Cultivate places where you yourself have lower rank. This will increase your sensitivity and empathy and remind you that there are highs and lows to both higher and lower rank. Learn to consciously move between up-power and down-power.
Feel the pain and grief, even horror, of being part of a system that has caused, and continues to cause harm to minorities. Accept that although you may not have consciously caused harm, you are part of a system that does.
Examine and mediate your own shadow tendencies–lack of empathy, simplistic thinking, blaming the other, objectifying, creating social distance, retreating into shame, denying differences, hopelessness, and helplessness.
Divest white privilege from an identity of "better than." Don't fault those with lower status for their lack of access and opportunity. Advantage leads to more advantage; disadvantage leads to more disadvantage.
Feel your empathy, connection, and concern. Be guided by your moral compass.
Take individual compassionate action. Speak about what you are doing to bring about change.
Join with and accompany those who are discriminated against to work to change underlying systems.
Be prepared. This may prove to be a daunting and humbling challenge.
References: 
Diamond, J. (2016). Power: A user's guide. Santa Fe, NM: Belly Song Press
Irving, D. (2014). Waking up white and finding myself in the store of race. Cambridge, MA: Elephant room Press.
McIntosh, P. (1989). White privilege: Unpacking the invisible knapsack. Peace and Freedom Magazine. Retrieved from https://nationalseedproject.org/white-privilege-unpacking-the-invisible-knapsack
Spencer, K. (2015, February 20). At New York private schools, challenging white privilege from the inside. The New York Times. Retrieved from https://www.nytimes.com/2015/02/22/nyregion/at-new-york-private-schools-challenging-white-privilege-from-the-inside.html?_r=0

The preceding article was solely written by the author named above. Any views and opinions expressed are not necessarily shared by GoodTherapy.org. Questions or concerns about the preceding article can be directed to the author or posted as a comment below.