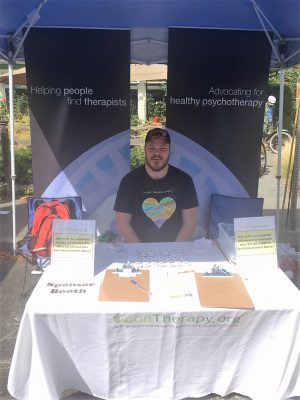 The GoodTherapy.org team helped sponsor the community Love Our Local Fest in Olympia, WA on August 21, 2016. This is the third time GoodTherapy.org has served as a sponsor for the event, which celebrates community arts, music, and culture in the Eastside neighboorhood of Olympia; we also attended in 2013 and 2014.
Though GoodTherapy.org is an international directory of mental health professionals, serving people all over the world who are looking for a therapist, we have always been passionate about having a local presence. GoodTherapy.org's main office and most team members are located in Olympia, WA, where there is a vibrant community that unites around local goods and services. Love Our Local Fest is one example of the ways Olympia citizens celebrate arts, crafts, music, artisanal food and drink, nonprofit organizations, and more in the area.
Vendor booths and tables lined both sides of the street stretching two city blocks, one on either side of a stage that featured music from various artists throughout the afternoon. GoodTherapy.org provided information about how to find a therapist, the application process for therapists to join GoodTherapy.org, and free weekly GoodTherapy.org newsletters, which feature articles and news about mental health, psychology, and psychotherapy. Two lucky newsletter subscribers each won a $25 gift card to San Francisco Street Bakery, a local favorite in Olympia.
GoodTherapy.org was in good company with other organizations that promoted mind and body health and wellness at Love Our Local Fest, and community members who were not aware of GoodTherapy.org seemed grateful for the resource and opportunity to learn about our mission and vision. Matteson was more than happy to interact with visitors. "While I was primarily sharing information about our mission and vision, the content and resources we provide, and the work we do," he said, "I was humbled by the stories, experiences, and kind words that people from all walks of life took time to share with me. These unique—albeit brief—interactions are ones you can miss out on if you're not putting yourself out there, engaging with people face-to-face. I was so happy to be there to celebrate our community. It was truly wonderful to talk and spend even a few moments with everyone who stopped by our booth."
© Copyright 2016 GoodTherapy.org. All rights reserved.