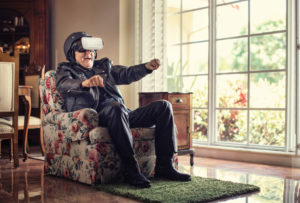 Dementia is a chronic syndrome that causes a person's cognitive ability to decline. As of 2015, 47 million people across the globe live with dementia. The World Health Organization estimates that 75 million people worldwide will have dementia by 2030.
Brain exercises that focus on speed processing (but not memory or reasoning) may reduce the risk of developing dementia, according to a study published in the journal Alzheimer's & Dementia. Doctors have long advised aging adults to stay mentally active to reduce their risk of dementia.  Yet this is one of the first large, well-controlled studies to compare different types of brain training and to measure their benefits over time.
Speed Processing: A Dementia Preventative?
The study, called the Advanced Cognitive Training in Vital Elderly (ACTIVE), enrolled 2,785 healthy elders. The study primarily looked at white women.
Researchers placed participants in one of four groups. The first group received no special intervention or training. The second group received memory training. Researchers trained the third group in problem solving, pattern recognition, and general reasoning. The fourth was trained to speed up their visual processing by playing a digital racing game.
Participants engaged in up to 10 training sessions over six weeks. Participants also had "booster" training sessions 11 and 35 months later. Researchers assessed participants' cognition immediately following the training and followed up at regular intervals for 10 years.
At five years, researchers found no differences between any of the groups. Ten years following the training, 260 participants had developed dementia. The speed training group had a reduced risk of dementia compared to the control group. The memory and reasoning training groups did not.
Overall, speed training reduced the risk of dementia by 29%. Every additional training session lowered the risk of dementia by an extra 10%.
Other Ways to Prevent Dementia
Dementia remains poorly understood. It has no cure, and there are limited treatment options. However, lifestyle changes may lower the risk the disease, even among people with a genetic predisposition.
Research published in 2014 suggests exercise can counteract the effects of a gene associated with developing Alzheimer's. A 2015 study identified several modifiable Alzheimer's risk factors, including depression, abnormal blood pressure, and a high or low body mass index (BMI) in middle age. A study published in 2016 found that yoga was more effective than brain training at preventing dementia.
References:
10 facts on dementia. (2017, April). World Health Organization. Retrieved from http://www.who.int/features/factfiles/dementia/en
Edwards, J. D., Xu, H., Clark, D. O., Guey, L. T., Ross, L. A., & Unverzagt, F. W. (2017). Speed of processing training results in lower risk of dementia. Alzheimer's & Dementia: Translational Research & Clinical Interventions, 3(4), 603-611. Retrieved from http://www.trci.alzdem.com/article/S2352-8737(17)30059-8/fulltext#sec3.1
Simple visual processing exercise is the first intervention to limit dementia. (2017, November 22). Ars Technica. Retrieved from https://arstechnica.com/science/2017/11/simple-visual-processing-exercise-the-first-intervention-to-limit-dementia
© Copyright 2017 GoodTherapy.org. All rights reserved.
The preceding article was solely written by the author named above. Any views and opinions expressed are not necessarily shared by GoodTherapy.org. Questions or concerns about the preceding article can be directed to the author or posted as a comment below.