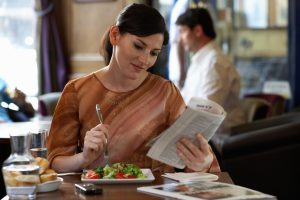 According to a new study, single people may lead richer lives and may be more self-sufficient and fulfilled than their married counterparts. The study was presented at the American Psychological Association's annual meeting.
The Bureau of Labor Statistics reported in 2014 that there were more than 124.6 million unmarried people older than age 16—the highest ever number of single people living in the United States. Conventional wisdom generally depicts single people as lonely and married people as fulfilled, but this study, which reviewed 814 previous studies involving single people, challenges that notion.
Is the Single Life a Happier Life?
For the study, researcher Bella DePaulo, PhD, of the University of California, Santa Barbara, searched for studies of people who had never been married. She then looked at overall measures of well-being in participants.
The results suggest many single people are happy and psychologically well-adjusted, and they may fare better than their married counterparts on a number of well-being measures. For example, single people tend to remain more strongly connected to parents, friends, and neighbors than do married people. They also more highly value meaningful work. Single people ranked higher on measures of self-sufficiency than married people, and that self-sufficiency was correlated with better mental health. For married people, the reverse was true. The more self-sufficient a married person was, the worse their psychological health was.
love
. Marriage comes with many cultural and financial benefits, so DePaulo says the fact that singles can thrive even without these benefits points to the value of a single life.
Debating the Value of Marriage
Research into the relative benefits of marriage is ongoing and often conflicting. An array of research suggests marriage can benefit both men and women. Some research points to greater benefits of marriage for men than for women, and a few studies suggest marriage may even be bad for some people, especially when the marriage is troubled.
A 2014 study linked a bad marriage to cardiovascular health problems. A 2016 study found that only men experienced a decline in health after the death of a partner. Women actually experienced improvements in health after the death of a spouse.
Even with these findings highlighting the benefits of a single life, DePaulo does not believe one option is superior to the other. She points to the value of everyone pursuing the way of life that works best for them.
References:
DePaulo, B., PhD. (2016, August 5). What no one ever told you about people who are single [PDF]. 2016: American Psychological Association.
Knapton, S. (2016, April 22). Wives become less stressed after their husbands die, study finds. Retrieved from http://www.telegraph.co.uk/science/2016/04/22/wives-become-less-stressed-after-their-husbands-die-study-finds/
Psychologists reveals science behind a fulfilling single life. (2016, August 5). Retrieved from http://www.apa.org/news/press/releases/2016/08/single-life.aspx

The preceding article was solely written by the author named above. Any views and opinions expressed are not necessarily shared by GoodTherapy.org. Questions or concerns about the preceding article can be directed to the author or posted as a comment below.