How to De-activate the Shame State, Part III of Series is edited from Right Use of Power: The Heart of Ethics* by Cedar Barstow
Here is the final section on how de-activate shame, first in yourself, and then with others. Part I was about shame as a debilitating state of mind; part II addressed how to recognize the shame state. These continue to be available through GoodTherapy.org. I have had a number of responses to parts I and II. I'd like to share several of these responses. Stefan writes: "This is serendipitous! I was just speaking with a friend. Her partner suffers so much from feelings of shame that he spends most of his time alone and particularly hates anyone to come round to their house. This, of course, impinges on my friend's life big time. I'll forward your writing to them as it's clarifying and reassuring. Interesting that 'guilt' has been a big subject for Freudians but was never clearly differentiated from its hardwired and problematic cousin, shame."
Several weeks ago, I was presenting a two-day Right Use of Power course in Japan. In Japanese culture as described to me, shame is such a humiliating and debilitating feeling that it tragically leads many Japanese to suicide. One of my Japanese students, after hearing my talk about the nature of shame and doing several experiential exercises, said that this understanding of shame was new to him and lifted the feeling of shame from hopelessness to hopefulness. He felt it would be life-changing for him and for people he would share it with. Also recently, a friend called from Chicago in distress because his daughter was completely falling apart from a break-up with her boyfriend. Listening to his description of her emotional state, I wondered if she might be feeling "locked up in the shame dungeon." I then told him the basics about shame and how to use simple body movements, humming, head turning, eye contact, to help return to the social engagement nervous system. He called me a few days later to say that his daughter had found these simple steps remarkably helpful and actually had been able to go back to work.
I am hoping that this, now complete, series on the dynamics of the state of consciousness called shame, will be helpful to you and to your clients and friends.
De-activating Shame
You may have noticed that in the depths of the experience of shame, people are unable to determine whether they are abuser or abused, whether they have been hurt or caused hurt. For example, men or women who have been in a sexual relationship with a person in a position of trust often believe that it is their fault in some way. The universal experience of shame is that we are irreparably bad and disgraced. When we feel irreparably disgraced, we can't imagine the possibility of healing, and therefore, there is no reason to be accountable. Shame that is prolonged produces rage, deep depression or both.
Here's a chart to help you in sorting out what is needed to de-activate the impacts of shame. By using this chart, you may assist your clients (or Self or colleagues) to move from the universal shame experience to the universal experience of reconnection, first by recognizing and de-activating shame and then working through either of the pathways.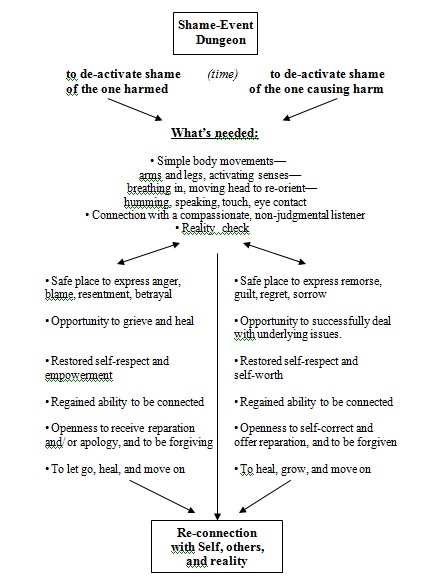 The pathway depends upon whether your client is the abuser or the abused. Notice that connecting with a compassionate listener and reality assessing are common to both routes. Shame and shaming are not healing and compassionate emotions. They fester in the unconscious. Neither healing nor remorse are accessible until shame is de-activating. Other feelings, such as remorse, connectedness, and sorrow, are available when shame has been de-activated. These are useful for healing and self-correction.
Further details about working with shame:
• Getting out of shame and treating it takes a certain amount of bravery. First, learn to recognize shame in yourself and in your clients. Shame secretly rules many people's lives. Seek to normalize shame.
• The basics for de-activating shame come from deliberately moving the person from freeze mode to run or hit mode to the social engagement nervous system. This involves simple activities such as moving arms and legs, and activating senses by humming or speaking, touch, and making eye contact.
• Learn to deal with shame in the moment. When feeling put down, notice your tendency to look down or away. Looking away is one of the indicators of the presence of shame.
• Next, acknowledge the shame. Compassionate acknowledgment begins the process of recovery, and may take the wind out of rage or depression.
• Remind yourself that when in the shame experience, you or your client is automatically unable to connect, resource, and reality check. Don't shame yourself for feeling de-resourced.
• Understand that, although you or your client has misused power or been abused by power, you or they are not irredeemably disgraced, irreparably evil, flawed, or unlovable.
• Get support. Don't isolate even though you feel shut down. Connect with someone and stay connected.
• Unburden by telling the story. Get the secret(s) out where it can be checked with reality. Sometimes people get "stuck" in repeating the story over and over again. They need some help in letting go.
• Learn how to make amends.
• Learn to revise internal dialogue from negative and shaming to positive and nurturing.
• Engage in the process of finding compassion, coming back into relationship, reawakening resources, and restoring self-worth.
• Once reconnected and resourced, you or your client can engage in accurate reality checking, healing, and restoring confidence, self-respect, and self-worth.
• Also refer to notes on the power of forgiveness on page 164.
Self-study Practice: Shame and the Power Spiral
Ask a partner to do this process with you, or proceed as a self-reflection. Now, look again at your drawing of your experience of shame and recall the memory that accompanied this. When you have re-embodied this memory, turn to each of the directions on the power spiral map. The following description is meant to serve as a guide for your process of coming out of shame. When you are the bridge person assisting and receiving your partner back from their experience of shame, find a place of compassion and warmth and be present with your partner.
In the East, you recognize through both physiological and emotional features, that you are experiencing shame. Remind yourself that your felt sense is a common and universal response.
In the South, bring awareness to your experience; remembering and acknowledging that in the shame dungeon you are incapable of connecting, being resourced, feeling hopeful, or reality checking innocence or fault.
Now, turning to the West, imagine facing a partner with your eyes closed or your gaze downward. Take your time and do whatever you need to prepare yourself for reconnection and returning to reality. You may need to do simple things like moving your arms and/or legs a bit, or activating your senses by humming. Let your eyes be your bridge across. When you're ready, open your eyes briefly until you can keep them open and connected with your partner. You may have to open and close your eyes a number of times on your journey back. Next be open to anything else that may want to happen between you—a hand or hug, an unburdening of the story, hearing some important words.
Find a way to move to the North aspect with your partner or in your mind, gather insight and wisdom from your experience and let go of whatever is ready to be released. You may also want to draw this.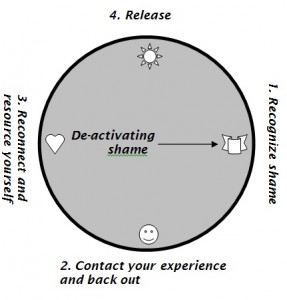 Having understood the dynamics of shame and learned to recognize it and de-activate it, you and your clients will find many benefits:
• Heartfelt and compassionate regret
• Accurate self-evaluation and ability to reality check
• Empowerment to take appropriate responsibility
• Ability to better tolerate shame, shaming, and personal mistakes or failings
• Ability to recognize shame and shaming and choose to maintain eye contact, remain empowered, or leave the situation without loss of self
• Less secrecy, rage, and/or depression
These are some responses to the experience of practicing de-activating shame:
• "I found just saying the word "shame" very freeing. It is good to name it what it is. It's as if I've created my own story from past shame that I bring into the present that has nothing to do with present experience."
• "When in the shame experience, my breath was short and it was literally impossible to smile."
• "I found myself feeling my feet on the earth and growing myself big. I needed my breath to fill myself up."
• "Coming out of shame was an act of will. It took wings of faith."
Resources:
*Right Use of Power by Cedar Barstow is available at www.rightuseofpower.com

The preceding article was solely written by the author named above. Any views and opinions expressed are not necessarily shared by GoodTherapy.org. Questions or concerns about the preceding article can be directed to the author or posted as a comment below.