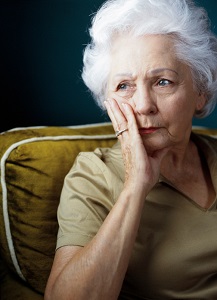 Imagine that you are 86 years old and recently lost your partner of 6o years. You are grieving and find it hard to engage in daily life—it holds little meaning anymore. You go through the motions, and your family (if you're fortunate enough to have an attentive family) expresses concern. You go to your litany of doctors, and one of them worries that you seem depressed. You scoff, thinking this is obvious, and what are you going to do about it anyway? She refers you to a doctor you can talk to about this. Because you respect your doctor, you follow up and make the appointment. You arrive expecting a sterile medical complex. Instead, you are met by a woman who ushers you into a pleasant office—more like a living room—and invites you to sit on a comfy couch. She asks you all sorts of nosy questions about your feelings and your life and you wonder: What is this?
This scenario may seem far-fetched, but it is not far from the norm in my experience. Most seniors who end up in my office did not come seeking psychotherapy. They came because someone told them to, and they have no idea what to expect. If anything, they assume someone will be prescribing them more medications. Why is this?
There are many contributing factors. Part of the problem, certainly, is a generational issue: Most people who are over 75 did not grow up valuing psychotherapy. Emotions are very personal and private;  besides, if they haven't needed it yet, why would they now? I hope this attitude will change with the boomers as they age. Another issue is that many seniors don't recognize that they are depressed. It is usually a family member or doctor who observes this and then pushes the person to seek help. And often it is not clearly communicated where they are sending the person. In addition, there is a dearth of quality practitioners who see seniors. I started seeing this group largely because no one else in my practice cared to.
Don't get me wrong: Working with seniors comes with many challenges for the therapist as well. It forces you to face your own mortality and losses in life. Also, the older people are, the more set in their ways they tend to be. So it can feel like change is slow or even impossible. Another challenge is that seniors often are ill and seeing doctors, so they may attend treatment irregularly and frequently cancel last-minute.
Once engaged, I have found that being truly heard and slight adjustments can make a huge difference in a senior's life. Often, people feel unheard by their children and doctors and they struggle with the loss of their faculties as well as of their autonomy. This can be extremely infantilizing and lonely. Overall, if I could suggest the main factor that will predict thriving in older age, it is whether the person feels engaged in his or her life. Whether helping someone to feel more connected/less isolated; whether it is accepting the constant losses that are a part of daily life; whether it is finding activities and communities to engage them; whether we help them find their voices with authorities or their own families, there is much that we as therapists can do to help seniors thrive.
© Copyright 2013 GoodTherapy.org. All rights reserved. Permission to publish granted by Lillian Rozin, MFA, LCSW, RYT, therapist in Media, Pennsylvania
The preceding article was solely written by the author named above. Any views and opinions expressed are not necessarily shared by GoodTherapy.org. Questions or concerns about the preceding article can be directed to the author or posted as a comment below.