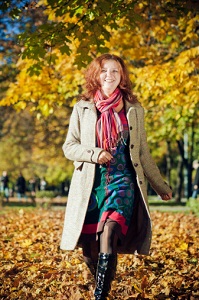 The notion that there's such a thing as too much self-esteem is based on a case of mistaken identity. Arrogance, egotism, selfishness, superiority, over-confidence—these are sometimes mistaken for self-esteem gone haywire. This misconception is rampant, even among psychologists and counselors. In graduate school a professor once said, "most convicted felons in prison have high self-esteem." This absurd statement is understandable given the popular conception of self-esteem as thinking everything you do is okay.
Here's the truth. Self-esteem is like health. There's no such thing as too much. You can be healthy in varying degrees, but there's no such thing as being too healthy. If you're engaging excessively in healthy behaviors like exercise, you cross into the realm of unhealthy. The ultimate in healthy is perfect health.
Balance is another example. Objects are either in balance or out of balance. If in gymnastics you over-balance, you have lost your balance. There is no such thing as being too balanced. There is only balance, and its opposite. That's how self-esteem works. Too much self-esteem, like too much health or too much balance, is its own opposite.
Who are these imposters masquerading as self-esteem? Let's look at each of them.
Arrogance and Egotism
These qualities seem to convey an overly positive attitude toward the self. People considered arrogant or egotistical come across as almost completely self-contained; they don't need your approval, because their own is more than enough.
Genuine self-esteem entails esteem for others, too. And people who fail to show others the same positive attitude they hold for themselves exhibit unhealthy self-focus, not healthy self-esteem. They're attempting to bolster their own egos by providing themselves with a 24/7 cheerleading squad.
If they truly thought they were special, they wouldn't need to brag about it. For this reason, self-esteem and egotism do not go together. Self-esteem gives you the quiet confidence of knowing you're good enough not to constantly toot your own horn.
Self-Centeredness
Being focused on one's own needs is a stage of development in everyone's life. Babies cry when they're wet or hungry. They don't consider whether this is a good time for their caregivers to change them or feed them.
Babies are naturally and appropriately self-centered. Their brains are not well enough developed to consider the needs of others in relation to their own. As they grow, they discover that they are not at the center of the universe, that others have their own feelings and needs.
But some people get stuck in this earlier, self-focused stage of development. Physically they're adults, but they haven't grown up inside. They still have a sense that they are at the center of the universe, and others' needs aren't as real or important as their own. Thus, people who are self-centered are not emotionally mature, since emotional maturity involves being able to take the perspective of another. In other words, being self-centered is not a problem of too much self-esteem, but of too little emotional maturity.
Superiority and Over-Confidence
Those who watched the first season of The Apprentice may remember Omarosa, a contestant whose sense of superiority alienated everyone with whom she came in contact. Omarosa told her competitors that she had more class than them. She was disliked in return. Her superior attitude didn't really stem from some heartfelt conviction of superiority, but was more likely an adaptation to long-standing feelings of being different, based on experiences of not fitting in and being rejected.
A person essentially has three choices when they feel different. The high self-esteem choice acknowledges the difference in an effort to co-exist peacefully, using empathy and diplomacy. This is hard to do, because as a culture, we don't  have a concept of different but equal. There is only better than or less than.
That leaves two choices when you feel like you don't belong. You can feel less than others, or you can feel better than them. Omarosa made the choice, whether consciously or unconsciously, to believe she was better. It was an adaptive choice, as she was able to accomplish a great deal despite humble beginnings. But her superiority act, like that of so many others, had nothing to do with self-esteem; it was a way for her to deal with intolerable feelings of not fitting in.
In short nobody has too much self-esteem. The behavior of a person who seems to have too much self-esteem is designed to compensate for insecurity. In other words, despite appearances, they're suffering from too little self-esteem.
This may be a huge shock to those who know people who seem to think highly of themselves because they make a point to let people know. Consider this: who most needs everyone to think they admire themselves? Those who don't. Who needs everyone to know they're confident? Those who aren't. And who needs to believe everything they do is okay? Those who believe that if they do one thing wrong, they're useless.
The next time someone drives you crazy with their arrogance, their self-centeredness, or their superiority, consider treating them with kindness and compassion; it will soothe their ailing self-esteem.
© Copyright 2009 by By Tina Gilbertson, MA, LPC. All Rights Reserved. Permission to publish granted to GoodTherapy.org.
The preceding article was solely written by the author named above. Any views and opinions expressed are not necessarily shared by GoodTherapy.org. Questions or concerns about the preceding article can be directed to the author or posted as a comment below.