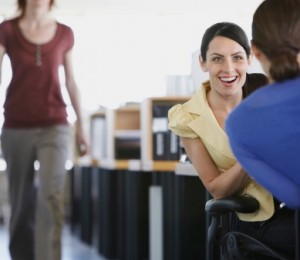 Juicy tidbits about who is in bed with who are hard to resist, and sometimes people just tell you things that are really hard to keep to yourself. Everyone loves a good story, but when the stars in the story are your coworkers (or your boss!), it's important to keep what you hear to yourself.
Here's why:
Is it even true? There may be some truth to the rumors flying around, but you often find that there's a lot of embellishment, too. Also, if the gossip happens to be negative and about someone you're already annoyed with, you could be prone to confirmation bias—the tendency to interpret information and evidence in such a way that it comfirms your preconceived beliefs. You might think it won't affect your interactions with that person, but that's misguided.
Harassment isn't just dirty pictures and jokes. If you are part of spreading rumors about someone that aren't true and those rumors are defamatory in some way (and they often are), that can be construed as harassment. If things get really ugly, you could get fired, sued, or both.
Help create the type of work environment you want. Gossip is not all bad. Some of it can help set expectations and serve as a lesson for the "hidden curriculum" in work and life. It also serves as a reminder that if you slip up, someone will notice. Still, wouldn't you rather work where you can rely on people coming to you with their issues directly instead of complaining to everyone else first? It's a safe bet that if you're in an office with an active rumor mill, it's only a matter of time before colleagues find something about you that's worth talking about … and it probably won't be good.
Gossip at its most problematic crosses personal and professional boundaries. Hearing something about your organization from people in the know may aid survival, and sharing that with friends isn't totally out of line. A healthy organization can stop that kind of gossip simply by keeping everyone informed instead of sharing important information with only "key personnel." If layoffs are a serious possibility, you have a right to know. When the gossip is about individuals, that's different. By spreading rumors about someone, especially when those rumors are negative, we treat that person as less than.
The best way to ensure that coworkers and supervisors are comfortable sharing important information with you is to prove that what they tell you stays with you. When you're in the break room and you hear something juicy, it can be tempting to share, but when it comes to sharing another person's story, less is usually more.
© Copyright 2014 GoodTherapy.org. All rights reserved. Permission to publish granted by Amy Armstrong, MS, NCC, MCC, LPC, Career Counseling Topic Expert Contributor
The preceding article was solely written by the author named above. Any views and opinions expressed are not necessarily shared by GoodTherapy.org. Questions or concerns about the preceding article can be directed to the author or posted as a comment below.