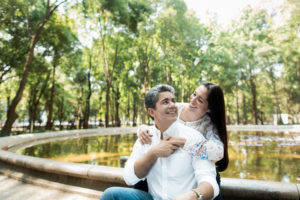 Iris and Dean have been together for 18 years. They have two children ages 16 and 12. They get along fairly well most of the time and have a happy home. Things haven't been perfect, but through the years they've been able to tackle any problem that came their way, from parenting to finances to household responsibilities. There is one aspect, however, they haven't been able to tackle: their sex life.
Since having children, their sex life has not been spectacular, but they managed to maintain regular sex nights and enjoy each other's company during physical intimacy. For the past four years, however, Dean and Iris have gradually been drifting apart sexually. It has been so long since they've had regular sex that when they do, it feels awkward and forced.
Both Dean and Iris feel demoralized by this. Iris feels as if she is failing as a wife because she knows Dean is sexually frustrated and unhappy, yet she just hasn't been in the mood. Iris feels like sex isn't worth the effort anymore and has had plenty of other things to fill her time and attention.
Dean feels at a loss as well. He is worried that Iris isn't attracted to him anymore and has begun to feel self-conscious about himself sexually. Moreover, Dean has been using porn more frequently than before. He feels guilty that he's masturbating to porn instead of trying to fix things with Iris, but he doesn't know how to deal with the problem.
Dean and Iris finally go to couples therapy for help with their sexual dissatisfaction. They relay the story of their relationship and the current state of affairs with their sex life. Their therapist listens to their perspectives, normalizes their issue (as this is a common occurrence in long-term couples), and instills hope that they can restore intimacy and stoke the fires of their sexual relationship once again.
After completing several assessment sessions, the couples therapist assigns Iris and Dean homework called sensate focus, asking them to schedule two "intimacy dates," or intimacy exercises, per week, starting this week. The therapist tells them to put the dates on the calendar so they can prioritize it and mentally prepare for it.
Dean and Iris schedule their first intimacy date for Friday night. At the encouragement of their therapist, they decide to actually go out to dinner together for a date, something they've rarely done since having kids. The evening starts out well—they're looking forward to a night out and a break from the norm. At dinner, they're both nervous. They know they're supposed to talk about something other than the kids, but it feels awkward. They have a good time overall but end up arguing about the upcoming holiday schedule. By the time they get home, Iris is feeling tired from a long week and still irritable about their argument. She feels overwhelmed by the thought of having to do an intimacy exercise and defensively tells Dean that she is exhausted and going to sleep instead.
The next morning, Iris feels guilty. She knows she promised in therapy to do the exercise. She would prefer to avoid the conversation; however, she knows she doesn't want to have to communicate to the therapist that she chose not to do the homework. Dean beats her to the punch and brings it up—"What happened last night?" he asks, looking defensive and slightly hurt. She shoots back, "I was exhausted! Work has been crazy, and I've been running the kids around all week and you expect me to …" she stops and wills herself to take a deep breath before continuing, "I'm sorry … I was so tired, but this is important to me. Can we try again?" Dean still looks slightly defensive but also understanding. They decide to reschedule the intimacy exercise for late Sunday morning when they know they'll be feeling awake and refreshed and the kids will be occupied with other things.
The couples therapist had encouraged them to share their apprehensions and fears with each other to help release the tension before the exercise. Iris decides to share with Dean that she is afraid of being vulnerable with him and worries this exercise won't go well—especially since the first one didn't pan out. Dean surprises Iris by sharing that he's afraid too. They both agreed to take it slow and give it time—it may take a few weeks to get used to the exercises and that's okay.
He moves down to her hands and feels the rough skin on her knuckles, contrasted with the softness of her palms. Dean thinks about how much Iris does for their family and what her hands have been through, and feels appreciation for her.
Sunday morning arrives, and they decide for Dean to go first. He turns on relaxing music, sets the phone timer to 10 minutes, and gets started. He begins to stroke Iris's arm—in phase one of sensate focus, breasts and genitals are "off-limits," meaning the toucher focuses on other areas of the body. Dean looks at Iris nervously, worried he won't like how she's touching him. He sees that she has her eyes closed and seems to be trying to focus on his touch.
Dean continues stroking her arm and notices that when he focuses on the sensations, his worried mind is more able to quiet. He notices how soft the underside of her forearm is and the gentle curve of her elbow crease. He moves down to her hands and feels the rough skin on her knuckles, contrasted with the softness of her palms. Dean thinks about how much Iris does for their family and what her hands have been through, and feels appreciation for her. The timer sounds, indicating it's been 10 minutes.
Iris appears more relaxed than when they started and smiles at him. They don't exchange words, as instructed, but simply restart the timer as Dean lays down for Iris to start touching him. Iris feels so relaxed that it's easier to push past her initial apprehensions. She begins with Dean's chest, stroking back and forth across the width. Iris tries to stay focused on the touch, but keeps having distracting thoughts and worries she's not doing the exercise correctly. Iris remembers that distracting thoughts are normal and tries not to judge herself. She refocuses on enjoying the feeling of the coarse hair on his chest and the strong frame underneath. Iris recalls all the times Dean has used his muscles to lift the kids into the car when they were younger, or carry a heavy box into the house. She feels love for him. Soon the timer sounds again, indicating their 20-minute exercise is over.
Dean and Iris discuss their experience: both their nervousness and distractions, as well as the closeness they felt with something as simple as stroking each other's bodies. They embrace and feel close to each other in a way they haven't felt in a while. They verbalize what they appreciated about the other person during the exercise, as their therapist suggested. Now that they've completed the first intimacy exercise, they feel more hopeful and motivated to continue, knowing it will get better as they go.
For help with sexual issues in your relationship, contact a qualified couples therapist.
References:
McCarthy, B., & McCarthy, E. (2012). Sexual awareness: Your guide to healthy couple sexuality, 5th Ed. New York, NY: Routledge.
Weiner, L., & Avery-Clark, C. (2017). Sensate focus in sex therapy: The illustrated manual. New York, NY: Routledge.
© Copyright 2017 GoodTherapy.org. All rights reserved. Permission to publish granted by Rachel Keller, LCSW-C, GoodTherapy.org Topic Expert
The preceding article was solely written by the author named above. Any views and opinions expressed are not necessarily shared by GoodTherapy.org. Questions or concerns about the preceding article can be directed to the author or posted as a comment below.