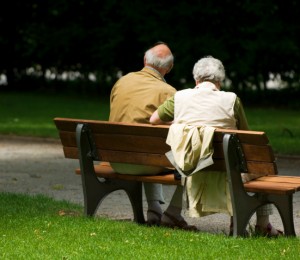 One in three seniors dies with symptoms of Alzheimer's or another form of dementia, yet this memory-stealing group of diseases is still not well-understood. Researchers at the Krembil Neuroscience Centre say they've uncovered a major cause of dementia, though, and have published their results in Annals of Neurology. 
White Matter Damage and Dementia
Seniors frequently experience some damage to their brains' white matter, and the damage is usually harmless. But previous research suggests that people with extensive white matter damage are more likely to experience symptoms of memory loss or cognitive impairment. Prior to this study, doctors were unsure what caused white matter damage in seniors, with most speculating that it's just part of the normal aging process.
This study's authors theorized that white matter degeneration might actually be the product of tiny strokes. To evaluate this hypothesis, researchers studied five people with white matter degeneration, conducting detailed MRI brain scans every week for 16 weeks. During the study, researchers noticed small white spots appearing on participants' brains. The spots were characteristic of small strokes. While these spots initially appeared not to yield any symptoms, they ultimately began looking like the existing damaged white matter spots in the participants' brains. This suggests that tiny strokes are more common than suspected and that, over time, the damage caused by these spots can lead to white matter deterioration.
The study's authors point to the need for a larger study sample to verify their findings. If small strokes really are a major cause of dementia, though, this could provide new treatment and prevention options for dementia.
The Psychology of a Dementia Diagnosis
Though new research offers hope for people suffering from dementia as well as those at risk of developing the condition in the future, not everyone wants to undergo testing for the disease. Lillian Rozin, a GoodTherapy.org Topic Expert on aging and geriatric concerns, says that many seniors mistakenly believe that there's no effective way to treat the disorder. "With the advances in understanding the causes and factors in the development of dementia, people and their caregivers will have more options for medical treatment and early intervention," she says.
Rozin further emphasizes the role that proper planning and a strong support system can play in treating dementia. "They will also have more options in their holistic care plans. Knowing that you suffer from dementia can help you set up a safe physical environment and arrange for appropriate powers of attorney, etcetera, as you go forward. For many, though, just accepting this diagnosis feels like a huge loss of control and independence, so it can become a battle for dementia patients and their team of family and caregivers. If there will be clearer markers for diagnosing dementia, it will help people to change their lives accordingly and hopefully provide themselves with a better quality of life. But the emotional challenges of having dementia are great for the patient and all those who interact with him day to day. Having a strong support system will help greatly when dealing with this diagnosis," she explains.
References:
Latest facts & figures report. (2014). Retrieved from http://www.alz.org/alzheimers_disease_facts_and_figures.asp
Researchers discover possible cause of common dementia, opening avenues for treatment. (2014, October 30). Retrieved from http://www.uhn.ca/corporate/ForMedia/PressReleases/Pages/researchers_discover_possible_cause_dementia.aspx
© Copyright 2014 GoodTherapy.org. All rights reserved.
The preceding article was solely written by the author named above. Any views and opinions expressed are not necessarily shared by GoodTherapy.org. Questions or concerns about the preceding article can be directed to the author or posted as a comment below.