Love
Love is a complex set of emotions, behaviors, and beliefs associated with strong feelings of affection, protectiveness, warmth, and respect for another person. Love can also be used to apply to non-human animals, to principles, and to religious beliefs. For example, a person might say he or she loves his or her dog, loves freedom, or loves God.
What Is Love?

Love has been a favored topic of philosophers, poets, writers, and scientists for generations, and different people and groups have often fought about its definition. While most people agree that love implies strong feelings of affection, there are many disagreements about its precise meaning, and one person's "I love you" might mean something quite different than another's. Some possible definitions of love include:
A willingness to prioritize another's well-being or happiness above your own.
Extreme feelings of attachment, affection, and need.
Dramatic, sudden feelings of attraction and respect.
A fleeting emotion of care, affection, and like.
A choice to commit to helping, respecting, and caring for another, such as in marriage or when having a child.
Some combination of the above emotions.
There has been much debate about whether love is a choice, is something that is permanent or fleeting, and whether the love between family members and spouses is biologically programmed or culturally indoctrinated. Love may vary from person to person and culture to culture. Each of the debates about love may be accurate in some time and some place. For example, in some instances, love may be a choice while in others it may feel uncontrollable.
Love versus Lust

Especially in the early stages of a relationship, it can be difficult to tell the difference between love and lust. Both are associated with physical attraction and an intoxicating rush of feel-good chemicals, coupled with an often overwhelming desire to be closer to another person, but only one is long-lasting: love.
Love is something that is cultivated between two people and grows over time, through getting to know him or her and experiencing life's many ups and downs together. It involves commitment, time, mutual trust, and acceptance.
Lust, on the other hand, has to do with the sex-driven sensations that draw people toward one another initially and is fueled primarily by the urge to procreate. Characterized by sex hormones and idealistic infatuation, lust blurs our ability to see a person for who he or she truly is and consequently, it may or may not lead to a long-term relationship.
For instance, Lana is in a committed relationship with Steve and her sexual desire for him is waning. She loves and cares for him, but she finds herself feeling restless and dissatisfied with their physical relationship. When she meets Brendan, she experiences instant feelings of attraction and longing. The chemical messengers in her brain start sending signals to pursue this new man, even though she does not know anything about him other than how his presence makes her feel physically. Instead of working to improve intimacy with her current partner, she is overcome by lust for someone new.
The ideal intimate relationship scenario, some might say, involves a balanced combination of love and lust. After all, lusting after someone is typically an important early phase of a long-term partnership, and reigniting that initial spark is a practice worth cultivating for committed couples.
Love and Mental Health
Although almost no one can agree on a single definition of love, most people do agree that love plays a significant role in both physical and psychological well-being. Numerous studies have demonstrated the benefits of love. Love's role in mental health is far-reaching, but some examples include:
The fact that babies who are not shown love and affection in the form of frequent holding and cuddling may be developmentally delayed or ill.
Feeling unloved is strongly correlated with feelings of low self-esteem and depression.
People who both feel loved by others and who report loving other people tend to be happier.
Love can play a role in long-term health, and feeling emotionally connected may help increase immunity.
References:
Anonymous. (September 2, 2002). How to tell whether it's love, like or lust. Jet 102.11, 12-14. Retrieved from http://search.proquest.com.ez.trlib.info/docview/199970680/1833AF113A8E4DCAPQ/3?accountid=1229
Prinz, J. J. (2007). The emotional construction of morals. Oxford: Oxford University Press.
Wilson, G. D., & McLaughlin, C. (2001). The science of love. London: Fusion Press.
Last Updated: 03-6-2017
21 comments
Leave a Comment
emmanuel q.

January 1st, 2017 at 11:50 AM

i have now realize the difference between love and lust

چال روی گونه

March 7th, 2018 at 8:22 AM

I love your believs

چال روی لپ

July 20th, 2018 at 11:46 AM

i think you like to be loved

Brooke

April 10th, 2017 at 11:50 AM

What is love? That's an age old question we may never find a simple answer to. However, the effort you made in this post is incredible. I love your writing style, and you really gave some meaningful insight.

Yogesh

April 30th, 2017 at 4:29 AM

I agree with this post but i personally think that love is something that drives us and keep us on a the right path. If we are alone and have no love in our life we may not be as worried and thriving towards better life as we do when we are concerned about people we love and giving them a good and healthy life. Love is what comes from inside. Loved this post keep up good writing also if your are free i would like to see your review on my blog post on the same topic : dhananjayd-mysteryoflife.blogspot.in

markjhan

March 21st, 2018 at 7:52 AM

its better to be love than never

Eden

July 21st, 2017 at 5:53 AM

Love is what u do not what u say .it is a mutual attraction that binds two or more people together

sbadreck

May 16th, 2017 at 11:01 AM

wow I like this

Jo

May 27th, 2017 at 6:40 PM

Can i get lana's number

dunno

August 29th, 2018 at 3:57 AM

did u get it ? askin fora friend

Judy

June 4th, 2017 at 11:39 AM

Wow i really love this post

Kailash

June 7th, 2017 at 4:57 AM

it is good post.

Nicetracy

June 16th, 2017 at 6:58 AM

I Love All U Guys Post.,so Let Lov Lead Since We Knw D Meaning Nw..

OkoAustin

June 24th, 2017 at 10:45 PM

do love still exist? because I been trying to love but it seems that material things have taking love away from this new generation rather what we experience now is lust amoung our self. inshot I so much like this page thank you so much.

Violet

June 26th, 2017 at 8:31 AM

LOVE is impossible to define and different for everyone. That sits very well within me.

Rahninho

July 4th, 2017 at 8:58 PM

Well explained & now gat a primarily know of love is

Jennifer

July 15th, 2017 at 7:28 AM

love is something u can never express,so strong nd emotional

isaac

August 17th, 2017 at 12:12 PM

I have learnt a new aspect of love.

Sahar

November 29th, 2017 at 7:44 AM

Im sahar and Im from Iran
This post its very intresting and I agree with this post

Ahmed T

December 25th, 2017 at 2:44 PM

Love's simply an excuse to get hurt.. By it's sweetness. I love You all_

biira

June 6th, 2018 at 8:39 AM

love is understandable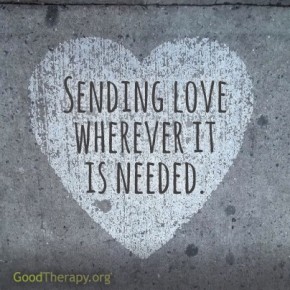 GoodTherapy.org is not intended to be a substitute for professional advice, diagnosis, medical treatment, or therapy. Always seek the advice of your physician or qualified mental health provider with any questions you may have regarding any mental health symptom or medical condition. Never disregard professional psychological or medical advice nor delay in seeking professional advice or treatment because of something you have read on GoodTherapy.org.