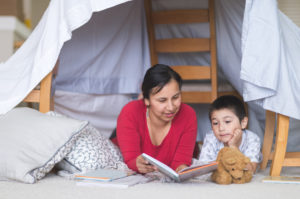 There are many programs for parents who want to improve or prevent disruptive behavior. These programs often promote two parenting strategies.
The first tactic is behavioral management. Some scientists believe children misbehave when parents reward bad behavior. For example, when a parent buys a toy to stop a tantrum, the child may be more likely to throw a fit in the future. Programs can teach parents how to promote positive behavior with praise and rewards. Parents can also learn nonviolent, age-appropriate punishments for bad behavior.
The second strategy is relationship building. The school of thought behind this tactic says children act out due to a lack of nurturing. Programs may teach parents how to recognize and respond to a child's needs. The goal is to repair any dysfunction in the parent-child relationship.
Many parenting programs teach both tactics at once. But is a combination of strategies more effective than behavioral management alone? According to two new meta-analyses published in Child Development, an integrative model is more effective, but only in certain scenarios.
Relationship Building and Behavior Management
The two analyses looked at a total of 156 studies of parenting intervention programs. The studies included data on over 15,000 families with children ages 2 to 10 years old. The participants were from diverse socioeconomic groups in 20 nations.
The programs aimed to prevent or reverse severely disruptive behavior, including
Open aggression or hostility
Deliberately annoying or upsetting others
Excessive arguing with adults
Frequent temper tantrums
Some programs taught only behavior management strategies. Other programs integrated behavior management with relationship-building exercises. The analysis compared the effectiveness of these approaches in preventing and reversing behavior.
An integrated approach was more effective for kids who already showed bad behavior. When prevention was the goal, an integrated approach offered no significant benefits. In other words, relationship-building strategies appeared to be effective only for reversing bad behavior.
Different Needs for Different Families
Parent support and training programs often target large groups of families, but different families may need different programs. When families seek treatment for disruptive behavior, a more integrative program may offer the best results. When the sole goal is prevention, a combination of strategies may be unnecessary.
References:
Leijten, P., Melendez-Torres, G., Gardner, F., Aar, J. V., Schulz, S., & Overbeek, G. (2018). Are relationship enhancement and behavior management 'the golden couple' for disruptive child behavior? Two meta-analyses. Child Development. Retrieved from https://onlinelibrary.wiley.com/doi/abs/10.1111/cdev.13051
Study identifies effective parenting strategies to reduce disruptive behavior in children. (2018, March 23). EurekAlert. Retrieved from https://www.eurekalert.org/pub_releases/2018-03/sfri-sie031418.php
© Copyright 2018 GoodTherapy.org. All rights reserved.
The preceding article was solely written by the author named above. Any views and opinions expressed are not necessarily shared by GoodTherapy.org. Questions or concerns about the preceding article can be directed to the author or posted as a comment below.