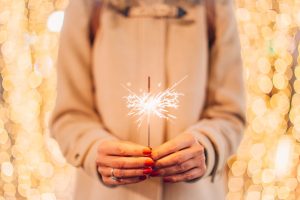 Mindfulness—the process of slowing down thoughts, remaining in the moment, and observing one's surroundings without judgment—could reduce problematic automatic behaviors, according to an article published in the Journal of Public Policy and Marketing. Many of these behaviors, such as overspending and overconsumption of food and alcohol, are common during the holiday season. The article suggests these behaviors are due to mindlessness and negative feelings.
How Mindfulness Can Change Behavior
The article merges a review of previous literature with a conceptual model of how mindfulness might improve people's thoughts and behavior. The researchers say many negative holiday behaviors are automatic and unthinking attempts to reduce negative feelings. For example, consumers might overspend to distract themselves from family stress.
Mindfulness can increase awareness and insight. This enables those who practice mindfulness to better understand the sources of their negative emotions, empowering them to adopt healthier coping mechanisms. Ongoing mindfulness practices can help people see themselves and their suffering as impermanent, weakening their attachment to unhealthy habits.
Cultivating Mindfulness During the Holidays
Mindfulness is a mental state that requires no special skills or training. Its sole goal is to increase awareness of the present moment. People who practice mindfulness aim to observe their thoughts, feelings, and surroundings in each moment.
The study suggests people who would like to practice being more mindful should pay close attention to physical sensations, external stimuli, and emotions. Rather than fixating on these experiences, simply observe them without judgment.
The Foundation for a Mindful Society offers five exercises for increasing mindfulness:
Mindfully breathe, remaining conscious of when you are inhaling and exhaling. Identify each breath as either a breath in or a breath out.
Continue practicing mindful breathing by remaining continuously aware of each breath for its duration.
While mindfully breathing, become aware of your body. Remind yourself you are inhaling or exhaling and are aware of your body with each breath.
Steadily release the tension in each area of your body while sitting, standing, or lying in a comfortable position.
Practice "walking meditation" by being fully present with each breath and step. Remind yourself each movement connects yourself to the beauty of life and the world.
References:
Bahl, S., Milne, G. R., Ross, S. M., Mick, D. G., Grier, S. A., Chugani, S. K., . . . Boesen-Mariani, S. (2016). Mindfulness: Its transformative potential for consumer, societal, and environmental well-being. Journal of Public Policy & Marketing, 35(2), 198-210. doi:10.1509/jppm.15.139
Nhat Hanh, T. (2010, August 23). Five steps to mindfulness. Foundation for a Mindful Society. Retrieved from http://www.mindful.org/five-steps-to-mindfulness/
New research provides ways to reduce holiday excess. (2016, December 10). Retrieved from http://www.prweb.com/releases/2016/12/prweb13911905.htm

The preceding article was solely written by the author named above. Any views and opinions expressed are not necessarily shared by GoodTherapy.org. Questions or concerns about the preceding article can be directed to the author or posted as a comment below.