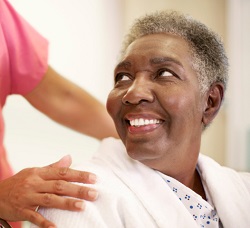 In the dark days of winter, it is not uncommon for existential concerns to creep in and consume the worried mind. Thoughts of family members, significant others, and friends who have passed may flood a person's mind in the midst of holiday happenings. And while we know death is inevitable, everyone tends to handle it a little differently. Some people manage to embrace this inescapable aspect of the life cycle with acceptance and resolve, while others feel afraid—even terrified—at the thought of it. 
Attempting to live a meaningful life may help to lessen end-of-life anxieties. But for others, finding meaning in their lives may prove difficult. This is especially true for people with low self-esteem, who often find it challenging to see their value and worth as individuals.
A recent series of four studies involving questionnaires about death coupled with real and simulated experiences of touch revealed that something as simple as a "light, open-palmed touch" on the shoulder blade may significantly help those with low self-esteem to feel less anxiety over their mortality.
The researchers noted that in general, these individuals have a tendency to seek social and physical connection to combat their fears of death. They also found that the soothing nature of touch appears to transcend the existential comforts many find in religious teachings and values systems.
In a press release issued by the Association for Psychological Science, psychological scientist and lead researcher Sander Koole of VU University Amsterdam said, "Our findings show that people may still find existential security through interpersonal touch, even in the absence of symbolic meaning derived from religious beliefs or life values" (2013).
Even lightly touching a soft teddy bear offered some relief for the participants, which was reflected in the answers to their questionnaires. Koole went on to say, "Interpersonal touch is such a powerful mechanism that even objects that simulate touch by another person may help to instill in people a sense of existential significance."
Following their observations, the researchers began exploring the possibility of electronically simulating the experience of a hug through the use of a "haptic jacket," which is currently touted as creating an experience of "emotional immersion" via strategically placed actuators while watching movies (Jones, 2009).
Ultimately, the research suggests that being reminded through touch that we are not alone, and that the desire for physical contact and affection is shared, does wonders for the human psyche. If anxious thoughts of "the end" are plaguing a person's mind, a handshake or a hug—or even a light touch on the shoulder—may be enough to snap him or her out of a fear-induced funk temporarily.
References:
Association for Psychological Science (2013, November 6). Touch may alleviate existential fears for people with low self-esteem. Science Daily. Press release. Retrieved from http://www.psychologicalscience.org/index.php/news/releases/touch-may-alleviate-existential-fears-for-people-with-low-self-esteem.html?utm_source=pressrelease&utm_medium=eureka&utm_campaign=existentialtouch
Jones, W. D. (2009, March 18). Jacket lets you feel the movies. IEEE Spectrum. Retrieved from http://spectrum.ieee.org/biomedical/devices/jacket-lets-you-feel-the-movies
Koole, S. L., Tjew A Sin, M., Schneider, I. K. (2013, November 4). Embodied terror management: Interpersonal touch alleviates existential concerns among individuals with low self-esteem. Psychological Science. doi: 10.1177/0956797613483478. Retrieved from http://pss.sagepub.com/content/early/2013/11/04/0956797613483478.abstract

The preceding article was solely written by the author named above. Any views and opinions expressed are not necessarily shared by GoodTherapy.org. Questions or concerns about the preceding article can be directed to the author or posted as a comment below.