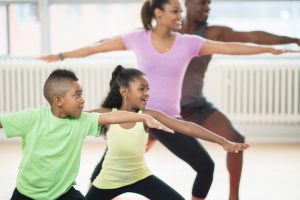 Children who are physically active may be less likely to experience depression, according to a study published in the journal Pediatrics.
The study is the first to measure the link between childhood activity levels and depression. An increasing body of research already points to the mental health benefits of physical activity in adults. A trio of studies found exercise could both treat and prevent adult depression. Another study found exercise could also be an effective tool for managing posttraumatic stress (PTSD).
Exercise to Combat Depression in Children
Researchers collected data on physical activity and depression symptoms from 795 Norwegian 6-year-olds. They followed up with 700 participants when they were 8 and 10 years old.
Children who were physically active had fewer depression symptoms at both 8 and 10 years of age. However, researchers did not find a correlation between a sedentary lifestyle and depression. This suggests exercise can reduce depression symptoms, but a sedentary lifestyle does not cause depression. The study also found children with depression were no more likely than their peers to be sedentary.
The Importance of Childhood Physical Activity
In addition to combating depression, researchers have documented many ways children benefit from physical activity. A 2016 consensus statement published in the British Journal of Sports Medicine states exercise supports children's intellectual development, encourages the development of social skills and teamwork, raises self-esteem, and helps with management of stress.
References:
How much physical activity do children need? (2015, June 4). Retrieved from https://www.cdc.gov/physicalactivity/basics/children/index.htm
Zahl, T., Steinsbekk, S., & Wichstrom, L. (2017). Physical activity, sedentary behavior, and symptoms of major depression in middle childhood. Pediatrics, 139(2). doi:10.1542/peds.2016-1711
© Copyright 2017 GoodTherapy.org. All rights reserved.
The preceding article was solely written by the author named above. Any views and opinions expressed are not necessarily shared by GoodTherapy.org. Questions or concerns about the preceding article can be directed to the author or posted as a comment below.