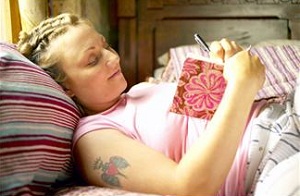 In my practice, I see many women who are dealing with mental health issues related to reproduction, including fertility challenges. It is interesting to me that 1 in 10 women struggle with polycystic ovarian syndrome (PCOS).
Just what is PCOS? The symptoms are complex and the cause not always clear. What is known is that PCOS is an endocrine disorder (pertaining to hormones) thought to be of genetic origin and also influenced by insulin resistance. An increase in androgens (male hormones) results in hirsutism (excessive facial hair) or hair loss (male pattern balding), absence of menstrual cycles, weight gain, high blood pressure, acne, difficulty losing weight, insulin resistance, depression, mood swings (think: perpetual PMS), and sometimes ovarian cysts for women with PCOS. Also, 40% of women with PCOS have a thyroid condition. Fifty-percent of women with PCOS have diabetes (and the percentage is higher with those with "just insulin resistance"). Clearly, the delicate orchestra of hormones fires out-of-whack in a woman dealing with PCOS, and if she is trying to conceive a baby, then she has some significant hurdles to leap to accomplish her goal.
The good news for women managing PCOS is that holistic interventions exist that can help influence fertility and assist her to prime her body to be in optimal condition for a potentially natural conception. In addition, many women have benefited from conventional medicine interventions resulting in conception and full-term pregnancy as well.
Although it is beyond the scope of this article to go in depth on medical interventions, I wanted to a list a few helpful suggestions that are widely reported to be beneficial:
Try a weight loss program (exercise 30 mins/day to boost metabolism—women with PCOS have "slow" metabolisms) and also incorporate healthy diet (many diets are suggested in resources below)….please consult with your endocrinologist before making any health-related changes.
Practice stress reduction through yoga, deep breathing, exercise, journaling, and psychotherapy.
Absolutely eliminate smoking, alcohol, and caffeine from the diet.
Acupuncture and Chinese medicine (herbs) have shown some benefit in reducing symptoms of PCOS and assisting with fertility (again, research with your health practitioner the best course of action).
Join an online forum for women who are challenged with PCOS (see resources below).
Always seek out the advice of your medical practitioner. In some cases, women may elect to try conventional medicine to lower insulin resistance and also improve the odds of ovulation through conventional medications such as metformin and Clomid (clomiphene).
Seek the support and comfort of a perinatal/women's reproductive mental health psychotherapist.
Helpful websites/resources to support women as they journey through PCOS are:
soulcysters.net – online community with great links to medical studies, interventions, online support, books, resources
pcosupport.org – helpful information, online community for women with PCOS, medical/conventional/holistic interventions, resources
pcoschallenge.com – online community, forum, diet suggestions, radio, support forum for women.
postpartum.net – (PSI) for women who are experiencing perinatal depression/anxiety; co-coordinators provide names of trained perinatal practitioners who can help clients with reproductive mental health challenges.
As a perinatal psychotherapist, I am involved in linking resources and coordinating treatment with my client's health-care team. I also provide unconditional, positive support emotionally to my clients who clearly have a physical condition that influences mood. My approach to treatment, although eclectic, is always strength-focused and client-centered. I spend a lot of time focusing on self-care and stress reduction, as well as empowering my clients to make health-conscious decisions for their lives. I blend cognitive-behavioral and interpersonal techniques to help women who are struggling with PCOS and hoping to become pregnant.
We also know that women who have had fertility challenges are more at risk for perinatal depression. Therefore, it is imperative to monitor such clients for symptoms and arm our clients with screening, information, and support throughout their pregnancies on through the first year postpartum (see my previous articles on perinatal depression and anxiety at GoodTherapy.org). Women with PCOS are also at increased risk for pregnancy-related complications including miscarriage, gestational diabetes, and premature delivery resulting in increased NICU (neonatal intensive care unit) stays. All of these potential complications can obviously seriously affect the client's psychological well-being and place a client at a heightened risk for perinatal depression and anxiety.
In addition, I also provide a safe space for my clients to explore their fears and the sense of anger that their body has betrayed them. Holding the hope that a woman can reclaim her health through holistic (and conventional) interventions is so helpful for clients. In many cases, I have been privileged to learn of my clients' pregnancies and subsequent healthy deliveries. I am honored to help my clients psychologically through the road to fertility, conception, delivery, and beyond. This work is truly gratifying and moving.

The preceding article was solely written by the author named above. Any views and opinions expressed are not necessarily shared by GoodTherapy.org. Questions or concerns about the preceding article can be directed to the author or posted as a comment below.